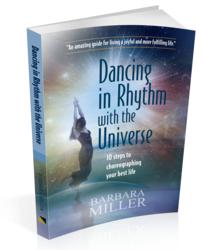 It is never too late to take back your power and recognize that you already have everything you need inside of you to meet life's challenges head on.
Naples, Florida (PRWEB) April 10, 2013
Life often feels like a high-speed treadmill that we can't seem to jump off of or slow down. Certified master life coach and motivational speaker Barbara Miller has made her personal goal to help other women realize it's not too late to make the best life for themselves and has compiled her strategies and advice into "Dancing in Rhythm with the Universe: 10 Steps to Choreographing Your Best Life" (ISBN 0988185202).
In "Dancing in Rhythm with the Universe," Miller helps her readers create the healthiest, happiest version of their life. She offers clearly defined steps to creating success in order to help readers overcome any struggles they've faced in the past.
"Finding your own center and creating a rhythm and flow that frees you to manifest the life you truly want and so richly deserve can be accomplished by mastering the art of developing the 10 steps I outline for readers," says Miller. "Readers will gain clarity about their goals and desires in life, as life will begin to take shape the exact way they choreographed it."
Miller says, "The celebrity participants on the Dancing with the Stars show are everything we want to be: smart, attractive, graceful and confident." The good news she says you do not have to be on a TV show to be all those things. Miller says, "You can be the star of your own life and choreograph your own new dance."
"Dancing in Rhythm with the Universe: 10 Steps to Choreographing Your Best Life" is available for sale online at Amazon.com and Barnes & Noble.
About the Author:
Barbara Miller is an author, motivational speaker and certified master life coach who founded Barbara & Company International, Inc. She is currently studying health and wellness at Ashford University. She previously studied at the Kendall College of Art and Design and earned her master life coaching certification through American University of NLP. Previously a professional model and medical esthetician, Miller is now a full-time writer and public speaker with the goal of empowering women to lead their best life through mental, physical, social-emotional and spiritual balance.
Barbara Miller
Email: Barbara(at)barbaraandcompany(dot)com
Phone: (239) 253-2579
Website: http://www.barbaraandcompany.com
Blog: http://www.princessdiaryblog.com
Review Copies and Interviews Available