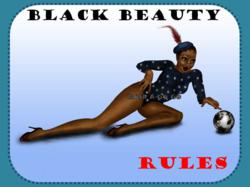 Noir A-Go Go is a 1-stop shop for Black pinup girl-themed stationery.
BROOKLYN, NY (PRWEB) April 23, 2013
Want your birthday, Valentine's, Christmas, and general greeting cards with a splash of pizzazz and cultural uplift? Then Noir A-Go Go's newly released stationery line is the answer to your "Get Well Soon", "Thinking Of You", "You Go, Girl" needs.
The new line of African American greeting cards has a special mission which the online store billing itself as a 1-stop shop for Black pinup girl-themed stationery, takes very seriously.
"Greeting cards are an increasingly rare art form and unfortunately unique and culturally specific cards for African Americans are even rarer," says K.C. Washington, the company's owner and designer. "By offering fun and flirty cards which feature beautiful Black women, handsome Black men with sayings like "Trust Me Sugar, I've Overcome" and "Fear Is So 1950s" We hope to satisfy a certain type of neglected greeting card buyer."
The six card line offers three birthday cards, two different styles of blank note cards, and a one "Love" card, along with seasonal Christmas, Valentine's Day, and Black History month cards. The company also has plans to release graduation and mother's day cards.
The two year old online boutique stationery, gift, and accessory company by offering a unique product at an affordable price also looks to target the consumer looking for unusual compact mirrors, tee shirts, tote bags, and magnets.
About Owner and Designer K.C. Washington
K.C. launched Noir A-Go Go in January 2011, with the idea that something was missing within the American pinup girl genre, namely women of color. So she decided to put what she calls a sepia spin on the beloved genre and Noir A-Go Go was born. Convinced that the world is more than familiar with the image of African Americans fighting for their rights during the Civil Rights era, she wants to show another image from that time---one of glamour and wit. A Mellon Fellow and a novelist with a background in journalism and literary and historical fiction, K.C. has raised the curtain on a world of beautiful, empowered, stylish women (and a few men) and placed them on everything from magnets and tee shirts to tote bags and greeting cards, with more to come as she expands.