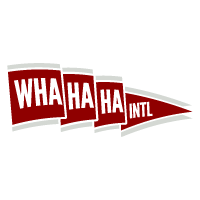 What became Louis Bancroft was a perfect fit - Chadwick Hagan
Atlanta, Georgia (PRWEB) April 15, 2013
Whahaha Intl. is pleased to announce the launch of its latest book 'Toulouse, Toujours' - a searing and cleverly written roman à clef by Chadwick Hagan that is loosely based on the tumultuous, sometimes comical and often tragic life of Count Gottfried von Bismarck-Schönhausen.
A wonderfully decadent and graphically descriptive novel that explores humanity in a highly original and insightful manner. The reader is given – quite literally – a bird's eye view of what happens in this strange, sometimes dark, yet undeniably intriguing world. There is also an underlying animal rights message.
'Toulouse, Toujours' is part one of a fast-paced trilogy brimming with exhilarating descriptive narratives that will take the reader deep into the heart of central London's famed Belgravia district, which has long been known for its impressive residences and remains one of the wealthiest neighborhoods in the world.
In Toulouse, an insightful yet delightfully unexpected observer gives a colorful account of the sights and sounds of the city's posh SW1 and SW3 districts – and of the goings on in and around the Belgravia home of the wealthy and highly eccentric character of Lord Louis
Bancroft's lifestyle exhibits more than just a passing resemblance to von Bismarck's. From sensual descriptions of London itself and the mansion's impressive gardens, to animated chronicles of the often drug-fueled antics of Lord Bancroft and other local characters, 'Toulouse, Toujours' is a uniquely intellectual work that manages to take the reader on a wild ride through the torrid world of the über-wealthy.
"This began as a musical endeavor. I partnered with a composer for a project and was writing a playbook," shared author Chadwick Hagan. "Then I came across the obituary of Bismarck and realized he was perfect."
This is Chadwick Hagan's first book. His influences range from Ludwig Bemelmans to George Plimpton. Aside from writing, Hagan is a serial entrepreneur based in Atlanta. He travels frequently with his wife and lived in Central London as a student.
'Toulouse, Toujours' is available now at the Kindle store and will be available in hardcover this summer. Translations will be available in German, Russian and Italian. The second installment 'Concorde de la Concordia' will be released this fall.