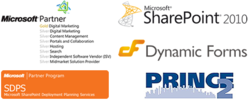 Warrington, Cheshire (PRWEB UK) 2 April 2013
igroup ltd, a growing UK-based technology firm, has signed up to GrowthAccelerator - a government funded scheme aimed at driving fast growth within business. The move follows igroup's announcement of a seventh consecutive year of double-digit growth.
GrowthAccelerator drives growth within businesses by focusing on their commercialisation of innovation, business development, access to finance and developing leadership skills. It aims to provide participating businesses with greater insight into their work and industry experts to offer help and guidance.
Managing Director of igroup Steve Rastall said, "We're very excited for igroup to be part of the GrowthAccelerator scheme. With seven consecutive years of double-digit growth, we are already a highly successful company and we hope this will help to further refine our business."
Further to its year-on-year figures, igroup has also posted 40% month-on-month growth over the last three months. The organisation has recruited a number of new positions in the last six months and has expanded its reach into the provision of public sector SharePoint deployments.
To find out more about igroup and the services it offers, visit: http://www.igroupltd.co.uk
***
About igroup
igroup is a UK-based technology company that provides SharePoint solutions. Formed in 2005, the company has at least doubled sales revenue every year via organic growth since being formed.
The company is ISO 9001 certified and is a Microsoft Gold Certified Partner with its specialist competency in SharePoint. It offers a range of SharePoint services including development, hosting, consultancy, support and training. igroup's Managing Director, Steve Rastall has been named in Insider Magazine's 'Top 25 Up & Coming Entrepreneurs' and the organisation has also won a HOT 100 Fastest Growing Companies award.
igroup's clients have included Herefordshire County Council, South London and Maudsley NHS Foundation Trust, Carmarthenshire Council, PMI Health Group, Chiesi, Sciensus, Provident Insurance and Serco.