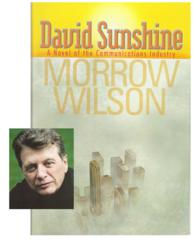 Says Morrow Wilson, "although nonfiction gives you the events and the people – fiction, at its best, gives you all that, and then and -- most importantly -- the atmosphere of the time and place and the emotions of the people of that world, that era."
New York, NY (PRWEB) April 09, 2013
"They're always telling you truth is stranger than fiction," says Morrow Wilson, whose new novel David Sunshine is intended to follow in the footsteps of Dickens and Mark Twain in creating literature that is both serious and up-beat. "What they neglect is that good fiction is truer than fact."
Why?
Says Morrow Wilson, "although nonfiction gives you the events and the people – fiction, at its best, gives you all that, and then and -- most importantly -- the atmosphere of the time and place and the emotions of the people of that world, that era."
David Sunshine is the sometimes funny, sometimes heart-breaking tale of an innocent young hero who comes to New York City to work for the pioneering talk show host and TV producer, David Sunshine, who, it develops, is a tyrant, an egomaniac and an unrepentant con man.
David Sunshine recounts its hero's adventures in television during the 1960s in the same personal way that The Great Gatsby tells the story of the jazz age and The Day of the Locust and What Makes Sammy Run tell the story of Hollywood in its heyday.
"These stories tell us how it really was," says Morrow Wilson. "I believe no history of any era can be complete without at least one such novel. Without Kipling, we would have virtually no emotional experience of British colonialism in India; without Gone with the Wind, likewise the Confederacy. The list goes on.
"Huckleberry Finn is about how rural America really was. 'The Andy Griffith Show' is not. 'Mad Men' is a fine TV series, but it is written by people who were not born till well after that time had passed."
Eliot Fremont-Smith, Editor-in-Chief of Little-Brown and book critic for the New York Times, calls David Sunshine "delightful and full of truth."
"Truth may be stranger than fiction," says Morrow Wilson. "But if I've done my job, David Sunshine is truer than nonfiction. And," he adds, "a whole lot funnier."
regaleaglesnest(at)live(dot)com
http://davidsunshinethenewnovel.com