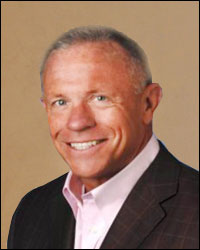 I believe in what we are doing.
Knoxville, TN (PRWEB) April 02, 2013
Tom Morgan's foundation is hard work, and dedication is his cornerstone. BPV Capital Management is proud to include Tom Morgan as a partner and as the lead director of its advisory board.
What is the key to Morgan's success in business and leadership? "If I think about being a leader of a company, the first thing is to make sure that you have the right people around you," says Morgan, "I always said, 'I want my Chief Financial Officer to do his job better than I can do it, I want my Chief Marketing and Communications Officer to do his job better than I can do it, my Chief Operating Officer…' so when you surround yourself with really good people, that's the first thing." Morgan carries this principle with him at BPV, working with some of the most talented men in the country: former CEOs, a national-championship winning UT football coach and even a former advisor to three presidents, all of whom he is fortunate enough to call his friends.
Officially, Tom Morgan is a partner and lead director of the advisory board for BPV Capital Management. Previously, Mr. Morgan was the president and CEO of Hughes Supply, Inc., and before that the CEO of Enfotrust Networks, LLC. The kind of experience Tom brings to the table from his long and successful career is invaluable to BPV. In Morgan's words, "I've been the CEO of three public companies, two of which were Fortune 500 companies, so I've had a lot of exposure to business: strategy, financial, operating and marketing. I think [it is] a pretty well rounded and balanced experience from running some pretty major companies, as well as my 22 years at the Genuine Parts Company, learning it from the ground up." He is also confident about BPV: "What I bring to the advisory board is, number one, I'm invested in BPV, so I'm a believer in what we're doing."
"I remember when a lot of my friends lost 35-40% of their investments with the horrible economic issues that happened in 2008, and the stock market collapse, and I just got to the point where I was thinking 'How do I preserve my money?' rather than worrying 'How do I make a lot more?'" muses Morgan. Hearing about BPV through his friendship with College Football Hall of Fame Coach Phillip Fulmer and Mike West, CEO of BPV Capital Management, Morgan became interested. "BPV fit right into what I was looking for. The idea of giving up the upside to try to avoid risk and protect the downside was my reasoning. With that I started begging Mike to let me buy into the company," laughs Morgan.
Unofficially, Morgan brings a vigor and enthusiasm for life and business that's contagious. Whether he is raising trout at his home in Montana or making a presentation at a board meeting, Morgan is full of spirit. He also has the rare ability to blend business and pleasure in an irresistible way. "Coach Fulmer and I went to Argentina with a group of guys − we always find a way to get the BPV story woven into our discussions and it usually leads to opportunities," says Morgan.
Today, Morgan plays an active role at BPV, feels a bit more secure about his investments and calls himself a "believer" with a grin on his face.