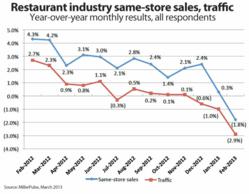 February 2013 saw the worst same-store sales in three years according to the MillerPulse survey in the Nation's Restaurant News
Scranton Pa (PRWEB) April 11, 2013
The first quarter of the year is coming to a close and the restaurant industry is struggling. February 2013 saw the worst same-store sales in three years according to the MillerPulse survey in the Nation's Restaurant News. Many factors contributed to the guest traffic decline of 2.9% for the month. To address these issues, CORE Restaurant Marketing has developed a strategic partnership with Loyal Patron, a Philadelphia based loyalty program provider.
Now more than ever is it important for restaurant operators to implement customer loyalty strategies to increase customer frequency and improve check averages. As spring approaches, now is the time for action in stabilizing your business. Outlined below are five steps to consider building your customer community through an effective loyalty building strategy. For a custom loyalty program analysis, contact CORE Restaurant Marketing at 888-890-9492 x 101
1. Implement a customer loyalty program. Studies have shown that customers engaged in a loyalty program have a check average 22% higher than non-loyalty customers. Utilize the restaurant servers as brand ambassadors to build the loyalty program.
2. Build a customer database that captures important information such as email address, cell phone number, and birthday. Customer communications is critical to an effective program.
3. Tie event marketing into your loyalty program. A recent client utilized a strategy in which contest entries earned additional loyalty rewards.
4. Utilize your loyalty program to tap into the power of the local community. Loyalty programs can be designed and implemented to support fundraising efforts of schools, teams and charitable causes.
5. Create event triggers to drive specific sales efforts on slow days. Spot marketing with test messaging such as "Double Point Mondays" or "Triple Rewards for Lunch" are great ways to drive traffic.
Unlike daily deal programs, loyalty programs are not deep discounts to stimulate short term sales. They are rewards that are earned over time for use at a later date. Typically the consumer will make many visits to the restaurant to earn their reward. Along the way, the restaurant operator will see increased check averages from these loyal customers.
CORE Restaurant Marketing has implemented loyalty programs that drive results through their strategic partnership with Loyal Patron, a Philadelphia based loyalty provider. Loyal Patron has designed programs that are used effectively in the restaurant and bowling industries in driving higher check averages and purchase frequency.
With over 30 years of experience in the food industry, CORE Restaurant Marketing is about helping restaurants improve their revenues and profitability. The CORE Coaching Program helps guide restaurants on a path to significant revenue improvement.