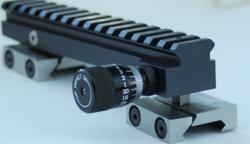 The Arc-Rizer™ is easy to mount and will optimize a $200 scope enhancing performance to equal a $1,600 scope that has internal adjustments. You don't have to spend thousands on a scope to become competitive in long-range shooting any longer."
Atascadero, CA (PRWEB) April 16, 2013
Arc-Angle Solutions Inc, a California based corporation, is rolling out the Arc-Rizer™ vertically adjustable scope mount (VASM) after years of development and testing. The powerful combination of physics and extensive ballistics knowledge has produced a unique scope mount that will revolutionize long range shooting.
Designed by the late Buddy Clifton, Fifty Caliber Shooters Association (FCSA) World Champion and former World Record holder, along side Hubert Lauffs, President Arc-Angle Solutions Inc, and contrived by top aerospace engineers, the Arc-Rizer™ VASM takes each shot further with more accuracy and precision than ever before availed.
Weighing 9.5 ounces, the Arc-Rizer™ boasts an incredible 200 minute of angle (MOA) of vertical adjustment via a quarter minute click system and with universal mounting clamps that attach to virtually any Picatinny or Weaver rail system.
Paul Lauffs, VP Engineering Arc-Angle Solutions Inc, states, "The scope mount will take you from your standard 100 yard zero (0) all the way out to 1000 yards in less than four seconds. While the speed of redefining your zero (0) is impressive standing alone, in addition it completely eliminates parallax (the blur or distortion caused by putting too much pressure on the internal lenses) within your scope. With the Arc-Rizer™ equipped, the shooter is able to leave the scope in its sweet spot by putting all the vertical adjustments into the mount itself. This means crystal clear vision as far as the eye can see, and with its quarter MOA click system, adjusts the accuracy on par with the majority of high-end scopes."
Arc-Angle Solutions President Hubert Lauffs said, "Buddy and I envisioned our Arc-Rizer™ some years ago and he would be proud knowing we have followed through to fruition and are now offering to the public. The Arc-Rizer™ is easy to mount and will optimize a $200 scope enhancing performance to equal a $1,600 scope that has internal adjustments. You don't have to spend thousands on a scope to become competitive in long-range shooting any longer."
The Arc-Rizer™ is currently being offered at the Manufacturer Suggested Retail Price (MSRP) of $549 and can be purchased on the Arc-Angle Solutions Inc. website: http://www.arcanglesolutions.com
__title__ Arc-Rizer]