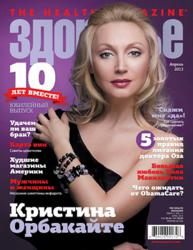 We're grateful for the support you've shown us!
Philadelphia, PA (PRWEB) April 01, 2013
Over a decade Zdorovie has become the leading healthy lifestyle print and online edition for Russian speaking Americans delivering credible, reliable health, nutrition, fitness, beauty information in engaging, interactive ways. Recently launched iPad version empowers, inspires and connects readers with an easy-to-navigate interface, and a fresh look and feel. The updated website showcases savvy wellness information, beauty advice, expert opinions, easy recipes and lifestyle tips.
Looking back on the past 10 years of owning the magazine, the publisher Jacob Bogatin smiles at how far the publication has come: "The initial idea was to create an ethnic edition for Russian speaking Americans, and it has grown into a recognized nationwide American publication, available in print version, online and on iPad". We are especially proud that our publication has found its way to 54 public libraries and the Library of Congress".
The 10-th anniversary issue of Zdorovie celebrates the past and the future. The magazine is constantly changing, offering exciting relevant, trusted editorial for working women and men, parents and grandparents – people from all walks of life. When you open it, you will notice that design, typography and layouts have been tweaked for this special issue, giving the magazine a fun, fresh look. Get healthy with energizing moves, easy recipes, expert tips and tools, and advice on managing conditions, losing weight and feeling great! We thank our readers, authors, experts and advertisers, social media community for staying with us. We're grateful for the support you've shown us!