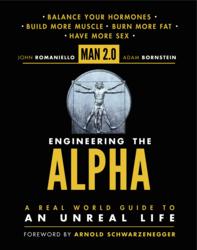 "THE book for busy people who want to make a change. John Romaniello is my own personal trainer, and I can tell you from experience, he can get you in the best damn shape of your life." -Gary Vaynerchuk, author of The Thank You Economy
San Francisco, CA (PRWEB) April 16, 2013
What if the solution to all of man's problems were connected to one overlooked health issue. New science has found that naturally targeting men's hormones is the way to more intelligence, more muscle, less fat, and better sex. For decades, the only solution appeared to be expensive anti-aging clinics, pills, and creams. But a new book, Man 2.0 Engineering the Alpha, shows that natural ways to optimize a man's hormones—through unique diet and nutrition approaches—can completely transform any man's life.
After the age of twenty-five, men have already peaked, and their testosterone is declining. This makes them weak, uninterested in sex, and kills everything about them that makes them men. What's the solution? It's not hiding in any dangerous drugs, creams, or injections—that's for sure. Having spent the past decade working with men and their hormones, John Romaniello and Adam Bornstein know firsthand the phenomenal natural changes that can be made to the body and mind. In Man 2.0 Engineering the Alpha, they share everything they know that will make this happen, from amazing workouts and the most powerful exercises to cutting-edge dietary strategies that rewrite the rules of life transformation. They use the brand-new and little-known science of balancing hormones to tie together physical, social, emotional, and sexual well-being. The book includes:

How to increase testosterone, brain-derived neurotrophic factor (BDNF), and growth hormone
11 ways to boost sex drive—including some surprising techniques
Why intermittent fasting (IF) is radically effective in weight loss
"The Alpha Rules" The emotional and psychological attitudes that work
Man 2.0 teaches how to man up, naturally, without dangerous drugs or steroids. Romaniello and Bornstein teach how to get sex drive back, have a ripped body, and feel like a fighter again.
John Romaniello is a hugely popular personal trainer who writes one of the most popular fitness blogs on the Internet, which has nearly 60,000 visitors per month. He is a regular contributor to Men's Health, T-Nation, and AskMen, and was recently named Men's Fitness' Spotlight Trainer of The Month for December of 2011. Romaniello also serves in an advisory position for LIVESTRONG.COM, the Internet's largest health and fitness website, and HealthGuru.com. He work has also appeared in Men's Health and Fast Company.
Adam Bornstein is an award-winning fitness and nutrition journalist, author, and editor. Named "one of the most influential people in health", Bornstein was the former editorial director for LIVESTRONG.COM, and the former fitness editor of Men's Health magazine. He is the author of four books, including most recently The Men's Health Big Book: Getting Abs. He has been published everywhere from the New York Times to ESPN the Magazine, and has appeared on Good Morning America, The Early Show, and E! News.