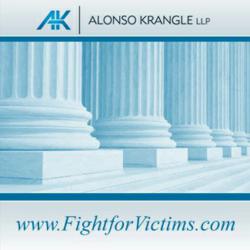 Melville, NY (PRWEB) April 12, 2013
As we get close to summer the law firm of Alonso Krangle LLP warns that though at least nine gel fire pot recalls by manufacturers have been enacted due to the highly combustible gel fuels used in ceramic gel fire pots that may cause explosions and burns, consumers may still have the flammable gel fuel in storage and be unaware of the serious burn and explosion dangers these product pose.
Alonso Krangle LLP, a law firm dedicated to fighting for the rights of product liability victims, is warning consumers about the serious burn and fire hazards posed by pourable gel fuel fire pots often used with ceramic gel firepots. Though the manufacturers of pourable gel fuel removed about 2 million bottles of the highly flammable products from the market, any consumer who is unaware of the gel fuel pot recall may still have the gel pot fuel in their homes for use this summer.
Gel Fire Pot Recall
In 2011, the U.S. Consumer Products Safety Commission (CPSC) announced that nine manufacturers voluntarily recalled the gel fire pots because it the bottle can unexpectedly ignite and spray the fuel on to objects and people nearby. At the time of the recall, dozens of people had been injured and at least two people had died due to their injuries.
(http://www.cpsc.gov/en/Recalls/2011/Nine-Manufacturers-Distributors-Announce-Consumer-Recall-of-Pourable-Gel-Fuel-Due-to-Burn-and-Flash-Fire-Hazards/)
Gel Fire Pot Explosions And Gel Fire Pot Burn Dangers
According the CPSC, the flame in the gel fire pots can sometimes burn invisibly, leading consumers to attempt to add more fuel to the firepot. However, if the bottle is too near the gel fire pot, the gel fuel can combust and cause a gel fire pot to explode, and cause flash fires that are not easily extinguished. The CPSC urged people to stop using the pourable gel fuel saying, "It's a dangerous product that we want to warn consumers to stop using." The agency further explained that "Stop, drop and roll or trying to smother it (the flames) does not work." Dousing the flames with water is also not very effective, and the CPSC recommends that dry powder extinguishers be used to put out the alcohol-based gel flames.
Last summer, more people were injured by the pourable gel fuel fire pots, including three people in Del Mar California who were hospitalized in an incident involving the fuel, with one of the victims sustaining second and third degree burns over half his body. Fire officials there have posted warnings about the dangers of using pourable gel fuels.
(http://thecoastnews.com/2012/08/experts-warns-against-use-of-gel-fuels/)
CPSC has issued an Advance Notice of Proposed Ruling to determine if the gel fuel fire pots should be completely banned, equipped with better safety warnings, or if there is some other way to increase product safety and reduce the risks to consumers. No decision has been made on that proposal.
(http://www.cpsc.gov/PageFiles/93545/firepots.pdf)
Alonso Krangle LLP continues to offer free gel fire pot explosion burn injury lawsuit evaluations to anyone who sustained a serious burn injury from exploding pourable gel fuel. For more info view our Gel Fire Pot injury lawsuit page. To discuss your potential gel fire pot explosion burn injury lawsuit with one of the experienced and compassionate product liability lawyers at Alonso Krangle LLP, please contact us at 1-800-403-6191 or visit our website, http://www.FightForVictims.com.