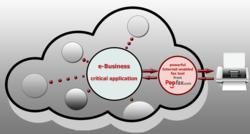 Does your e-business application need to send and receive faxes and manage your business fax workflow?
New York, NY (PRWEB) April 02, 2013
Most businesses rely upon its specific professional front, middle and back office applications. To ensure ubiquity, speed and mobility for those who use these applications, the system architects make them highly Internet dependent, whether they are hosted in the Cloud or are just accessible on an extranet.
By providing technology agnostic solutions like a SOAP programming interface (also called web services) and an e-mail interface, as well as a "print to fax" driver under Microsoft Windows that complies with all applications with a printing function, Popfax.com can be integrated with ALL existing professional applications: all you have to do is to subscribe to the fax service and, in a matter of minutes, users can integrate the fax function into their software for purchase orders, invoices, account statements (and others) directly from an SAP system or any other CRM platform.
New business models are automating, unifying and digitizing methods of communication with customers, merchants and partners. In many respects, with 130 million fax devices connected worldwide, fax remains an important means of exchanging business documents. By being able to easily combine the simple power of fax technology by Popfax with SAP, or with other CRM, ERP and e-Commerce software platforms, every company can have instant access to unified document communications for their e-business strategy.
How to integrate the online fax service to a business critical application?
To accommodate the daily faxing needs of corporations, Popfax provides 2 free APIs SOAP (HTTPS web services) and SMTP (e-mail) for a variety of business applications. Documents from users' application are sent through fax servers to the fax destination numbers. The faxes incoming to the customers' dedicated numbers are routed by Popfax to their company CRM, SAP or other e-commerce system.
If sending a fax as an e-mail from the application is still a complex task in the users' application integrator, installing the Popfax printer driver can answer this need without any integration. Once the driver is installed on a computer, the customer must only print the output of their professional application to Popfax.
Integrating a fax service will allow business users to:

Send faxes directly from SAP modules, CRM directories, e-commerce systems, ERP tools, etc.
Include such objects as cover pages, signatures in outbound faxes
Personalize documents for each recipient
Use the "Registered fax" patented system to certify the content that is delivered
Receive faxes within customers' enterprise critical application to fax numbers provided by Popfax or that they have previously ported to Popfax
Receive notifications on each fax delivery
Resend failed faxes in two clicks
Perform fax mailing to multiple users using own distribution lists
Popfax guarantees the quality and good compatibility of the SOAP and SMTP APIs: tens of thousands of active runtimes of the Pop Companion and the Popfax printer driver run smoothly every day. This is because we have long experience with SOAP and SMTP APIs integration.
Advantages of e-faxing integration with a SAP or CRM software:

Elimination of manual faxing and fax equipment maintenance
Unified communication with suppliers: users can instantly forward incoming orders to merchants and vendors, including those who are not e-Business or Internet enabled
Quicker and easier communication of sales department with customers: the sales personnel can respond faster to customers' orders and send invoices by fax without the varied inconveniences related to the use of standard fax-machines
Easier management of fax communication: all sent and received faxes (as well as reports on fax delivery) can be attached to specific customers, merchants, banks or partners
Efficient fax mailing directly from a back-office tool, etc.