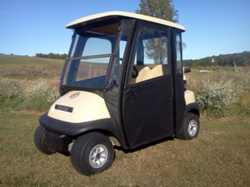 Made in the USA quality is the best in the world and we anticipate the Encompass will be extremely well-received by the golf industry - Steve Tyrer, President, Club Pro Manufacturing USA
Deer Park, NY (PRWEB) April 02, 2013
Club Pro Manufacturing USA, developer, manufacturer and distributor of innovative golf car accessories since 1987, continues its tradition of leading the golf industry in developing, engineering, manufacturing and bringing to market the most exciting and innovative golf cart enclosures.
Since its prototype debut at the PGA 2013 Show, the Encompass product release has been widely anticipated by golf course operators, dealers, resellers, golf retirement communities and the agricultural industry. The Encompass, featuring an exclusive, patent-pending Biff Brown design, leverages his many years experience and market success in door, window and hardtop design for the automotive industry. The unique design of the Encompass combines affordability, modular functionality, automobile-like styling (with full functioning doors) and all-weather protection for the golf cart marketplace.
Club Pro Manufacturing USA is a New York-based fully-integrated engineering, manufacturing and fulfillment center for golf car accessories. Consistent with most of its product line, the company's goal is for the Encompass to be majority USA material content and manufacturing, with 100% of the integration and fulfillment also slated for their Deer Park, NY headquarters.
Active in the Reshoring Initiative, Club Pro Manufacturing USA's President Steve Tyrer observes, "Made in the USA quality is the best in the world. Through careful controls, automation where appropriate, strong supply chain management processes and good old-fashioned hard work, we can also compete on a total cost of ownership basis. We at Club Pro are proud of our role in the golf industry and of the impact we have in Deer Park creating new jobs. We anticipate the Encompass product release will be extremely well-received by the golf industry and will create new opportunities in other markets as well - It's the best golf car enclosure system available in the marketplace right now."
The Encompass will be available in late May for the Precedent model. Due to projected high demand, the company highly encourages and is accepting pre-orders both online and via their toll free number.
In a move related to the transaction, Biff Brown assumes a dual role with Club Pro Manufacturing USA. In his new role, Biff will be responsible for new product development for the Encompass platform and marketing/ business development responsibilities for all Club Pro products in the key geographical areas of the Mid-Atlantic States and the Carolinas.
Releases by Club Pro Manufacturing USA of the Encompass type enclosure for additional golf cart platforms are scheduled for late 2013.
About Club Pro Manufacturing USA:
Club Pro Manufacturing USA, based in Deer Park, New York, has been an industry leader since their 1987 release of the legendary Buggy Cover - still the most requested golf cart cover on the market. With a dedication to quality and innovation, Club Pro Manufacturing USA continues to be the industry leader in engineered products for the golf industry.