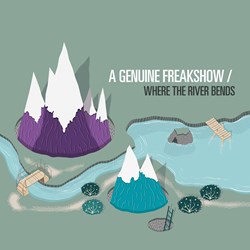 Teaneck, NJ (PRWEB) April 04, 2013
On April 9th, UK seven-piece, A Genuine Freakshow, will see their latest EP "Where The River Bends" released in the US and Canada via OK! Good Records on iTunes, Amazon and other music streaming services. The 4 track EP is also available right now on the OK! Good Records website, streaming for free or purchasable as a digital download.
A Genuine Freakshow is an artful blend of pop sensibility, icy soundscapes and blistering walls of noise. Their sound, while impressively focused, covers a range of musical staples, with the group letting influences from Mew to Sigur Ros and The National surface throughout.
Their songs capture quirky and catchy pop akin to Pulp in their pomp and grandeur – and even geeky charm. This ability to combine the poppy elements of indie rock whilst maintaining an intricate, delicate soul is what they do best. With a line-up that adds violin, cello and trumpet to the standard rock four-piece of guitar, bass, drums and vocals, their live shows are a demonstration in how to do epic without slipping into pompous.
After playing over 150 headline and festival shows since the release of debut album "Oftentimes" in late 2010 (later released by OK! Good Records in early 2012), April 2012 saw the band take a step away from the road and head to the studio with long-term collaborator and producer Jordan Fish to record a handful of new songs the band had written and been performing live over the previous summer.
Originally planned to be part of a new album, the songs on "Where The River Bends" ended up being a complete story on their own, so the band decided to release their first brand new music in almost three years.
OK! Good Records is an independent record label based in the New York City area. Founded in 2011 as an outlet for unconventional, evocative, and genre-defying music, OK! Good's mission is to pluck talented artists from all corners of the global landscape and present them to the American public.