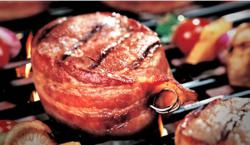 Each gift certificate is good for four filets mignons, 6 oz. each.
Harrisburg, NC (PRWEB) April 01, 2013
For the next three months, Galvan Electrical Products is lighting a fire under electrical grounding and connector product sales with free Omaha Steaks for customers placing qualifying orders.
The company's Spring Fling Promotion starts April 1 and continues through June 30. For each immediate shipment order of Galvan ground rods, acorns, clamps, connectors, lugs and other products valued at $2,500 or more, the company will mail out an Omaha Steaks gift certificate to the buyer. Each gift certificate is good for four filets mignons, 6 oz. each.
The cows really come home with orders in increments of $5,500. Orders worth $5,500 earn three gift certificates. Orders worth $11,000 earn six gift certificates, and so on.
Customers need only mail a qualifying purchase order photocopy along with a self-addressed, stamped envelope to: Galvan Industries, Inc., Attn: Spring Fling, P.O. Box 369, Harrisburg, NC 28075-0369. Certificates can be sent to a home, office, family or friend – whatever address the buyer indicates on the return envelope.
About Galvan Electrical
Galvan Electrical Products has been a supplier to the U.S. electrical industry for 50 years. Galvan's electrical grounding products and connectors are used in a wide variety of residential, commercial and industrial applications, including construction, cable TV, lightning protection, power transmission and telecommunications. They are available from leading electrical wholesalers and distributors throughout the United States.
For more information on the Galvan Spring Fling promotion, call 1-800-277-5678; fax 704-455-5215; email sales(at)galvanelectrical(dot)com or visit Galvan on the Web at http://www.galvanelectrical.com.
-end-