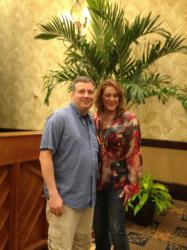 Pittsburgh, Pennsylvania (PRWEB) April 01, 2013
Last evening's meeting of the Western Pennsylvania Real Estate Investor's Association may have caused a shift in the Pittsburgh real estate market. With over 125 real estate investors in attendance, the Strongbrook retirement seminar was nearly a standing room only event.
Members of the local real estate investing group were joined by other retirement investors from Ohio, New York, and West Virginia, as well as a host of traditional stock market investors. The commonality among the audience was the desire to learn about the unique approach that Strongbrook founder Kevin Clayson was presenting.
It was a coup for the membership of the Western PA REIA to attract a speaker like Mr. Clayson to a regular Tuesday meeting. It is rare that the founder of a company will travel from Utah to Pittsburgh PA, just to give away free stuff, and that is exactly what Kevin Clayson was in town to do.
Real estate investing has always been part of the American dream. Real estate offers several advantages over other forms of investing. For example, real estate is a hedge against inflation, in good time real estate appreciates, in bad times real estate is a vehicle to wealth. Real estate functions like a commodity, in that it can be advantageous in both good and bad economies, with the added advantage that real estate is not consumed as it is used. Real estate provides a constant flow of income to the savvy investor. For these reasons, real estate has created more millionaires than any other investment in American history.
The drawback to real estate investing is that it requires a significant education in the methods of investing to be successful. Many novice investors lose money because they do not understand the market and how to use leverage, appreciation, depreciation, or any of the other advantages that real property offers.
Strongbrook has a unique model for creating the type of passive income that allows normal Americans to retire without worry in a way that no stock market fund offers. The program combines the advantages of real estate investing, with the done for you investing style of a standard mutual fund.
The disadvantages of stock investments stem from the fact that the investor has no control over the performance of the companies that form the basis of value for the stock price. Anyone who needs an example of this can simply Google companies like Lehman Brothers or Enron. By the time the average investor hears of a problem, they have already lost their entire investment.
Strongbrook offers clients a free, retirement road map, that shows perspective clients how working with Strongbrook can help them reach their retirement goals in a safe, investor controlled manner that does not require the expertise of traditional real estate investing.
Nationally known real estate investor Josh Caldwell of Caldwell Holdings LLC commented that "I love the done for you approach, that Strongbrook offers, even a monkey can understand what they are doing. I also love the free retirement game plan, that way you get to see if they are a company that you want to work with before you even spend a penny." Many of the investors in the crowd seemed to agree with Mr. Caldwell's assessment of Strongbrook.
Any who wishes to learn how to retire the Strongbrook way can follow the Strongbrook link for a personalized, no obligation, and free retirement game plan. http://retirementinvestor.strongbrook.com/freedom/index.html