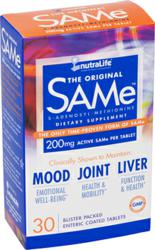 We are pleased that the benefits and scientific evidence of the efficacy of SAMe has been reiterated
Lakewood,NJ (PRWEB) April 04, 2013
The popular supplement S-Adenosyl Methionine, commonly known as SAMe received the highest rating for all supplements in a recent report evaluating the efficacy of many supplements taken for osteoarthritis. Once again this study reiterates the value of SAMe and offers significant hope for the 27 million plus Americans who suffer from osteoarthritis on a daily basis.
In the report released by Arthritis Research UK, a major medical research organization in England, researchers evaluated 31 complementary medicines taken either by mouth or applied to the skin that were found to have quality studies available. Each was scored for effectiveness based on users' improvements in pain, disability or quality of life on a scale of 1 to 5, with "1" suggesting the lowest degree of efficacy and "5" suggesting the highest. SAMe received a 4, the highest rating of all the supplements for arthritis relief.
"The results of this study are not surprising to us," stated Abigail Glass, President and Founder of Nutralife Health Products (NHP), a New Jersey based company that has been distributing SAMe supplements for over a decade. "Our customers have constantly been reporting back to us that SAMe has helped rejuvenate their joints, like no other supplement." According to the Textbook of Natural Medicine (Michael T. Murray, 2006), a total of 21,524 patients with osteoarthritis have utilized SAMe in detailed clinical trials. In double-blind trials, SAMe has demonstrated similar reductions in pain scores and clinical symptoms to those produced by nonsteroidal anti-inflammatory drugs (NSAIDs) and was found to be generally much better tolerated.
"We are pleased that the benefits and scientific evidence of the efficacy of SAMe has been reiterated," says Ephraim Glass, VP of Marketing at Nutralife Health Products. "Because of the staggering amount of consumers suffering from osteoarthritis, it is important that they are able to make informed decisions about the supplements they purchase." There are 27 million people in the United States who suffer from osteoarthritis, and the number is on the rise according to a recent CDC report. According to a US government report released in 2013 by the AHRQ (Agency for Healthcare Research and Quality), a division of the National Institute of Health; Osteoarthritis was the most common diagnosis among adults ages 45-84 in 2010.
"We know that SAMe is truly a unique product," says Sarah Levi, VP of Research and Development at Nutralife Health Products. "SAMe has been around for decades, has been the subject of numerous clinical trials and reviews, and is time and again proven effective."
Nutralife Health Products introduced SAMe into the United States in the 1990s, and it remains a leading brand in SAMe distribution. NHP's SAMe is available in 200mg and 400mg doses and contain the trademarked (S)SAMe, Nutralife's proprietary SAMe raw material.
Nutralife has always been at the forefront of SAMe research. "We hope that by promoting consumer awareness, many more people will realize the benefits of SAMe," stated Abigail Glass.
To see the full report by Arthritis Research UK, see the following link: http://www.arthritisresearchuk.org/arthritis-information/complementary-and-alternative-medicines/complementary-and-alternative-medicines.aspx
About NutraLife™ Health Products:
NutraLife™ Health Products (NHP), a women-owned business, was founded in 1996 by two women with one goal: to provide health-conscious individuals with natural, safe, and clinically-proven dietary supplements. NHP features a complete line of vitamins and supplements under the NutraLife™ brand. NutraLife™ SAMe products are among the leading selling SAMe SKU's in the nutritional supplement category according to IRI, and can be found at prominent retailers such as Walgreens and CVS.
To find out more about Nutralife SAMe, please contact Nutralife Health Products.
Nutralife Health Products
1-877-688-7254
http://www.nutralifesame.com
http://www.joint-rite.com