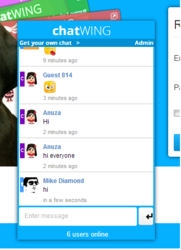 Dallas, TX (PRWEB) April 01, 2013
Niche blogging, one of the most common activities in the Internet today, is shifting into a better paradigm. This is based on the trends and choices being followed by thousands of people everyday. Chatwing Development Team is aware of this paradigm – this is why they launched a dynamic chatroom tool that can help web users gain utmost global connectivity. The tool can be installed to any blog or website, and it is loaded with universal features.
Niche bloggers can rely on the varied customization choices offered by the chat app. Upon registration, the user can proceed to the dashboard and create a color scheme from scratch. Any color combination is possible and there are also many font families and background images to choose from. Admin parameters are also possible—users can determine the idle time of users in the chatroom and they can also upload a single MP3 song link. The song will determine the overall mood of the chatroom.
Social media login method is also allowable in the Chatwing tool. This can also be set by the user in the dashboard. Currently, the allowed login methods are: Facebook, Twitter, Google, Yahoo, Guest, and Chatwing account. Guests can choose avatars from the Chatwing collection; these avatars are blocky, adorable, and have pop culture references. Guests can also input their customized names in the chatroom.
With Chatwing's reliable website chat tool, a niche blog can gain penultimate visibility in just weeks. This will translate to more subscribers, contacts, clients, and even profits. The Chatwing app can also support any marketing campaign, reducing costs by a high percentage.
About Chatwing.com
Chatwing.com specializes in the new field of website chat. Over years, the Chatwing team has introduced live chat widget for hundreds and thousands of blogs. The Chatwing application bridges people from many parts of the world, creating global synergy through the Internet. The shout box can be installed in just seconds, and it can be used for varying purposes such as leisure and Internet marketing. It also allows a user to customize the size, color, and name of the widget. Chatwing is 100% free for everyone.