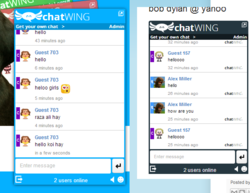 Houston, TX (PRWEB) April 02, 2013
Chatwing.com has recently launched a dynamic and reliable tool for movie buffs in the World Wide Web. This newest tool can help movie buffs discuss their favorite movies, actors, reviews, and other important factors. The Chatwing chatroom also has the potential to create a generous stream of traffic for any movie-related blog or website. It is also ready for social media interaction in all levels possible.
Chatwing's developers have noted that movie discussions are becoming more common in the company's chatroom. These discussions are focused on the strong and weak points of certain movies, such as Life of Pi, The Dark Knight, and many more. The Chatwing tool can provide a better vantage point for these discussions because of the social media leverage that it can offer. On average, users can log in with their Facebook, Twitter, Google, and Yahoo accounts.
Movie bloggers can also expect an increase in global traffic rate once they installed the Chatwing chat app to their blogs. The developers have noticed that an active chatting lounge contributes to the overall betterment of the blog. This is very useful in many instances. Also, Chatwing's developers have added a chatroom linking function, allowing users to intertwine their chatrooms within a single network.
The developers of Chatwing.com are known advocates of effective global website chat. They are always dedicated in creating applications that can ease up the information relay in all niches imaginable. This dedication is mirrored by the developers' hard work in improving the company's chat widget and reaching out to thousands of web users.
About Chatwing.com
Chatwing.com specializes in the new field of website chat. Over years, the Chatwing team has introduced live chat widget for hundreds and thousands of blogs. The Chatwing application bridges people from many parts of the world, creating global synergy through the Internet. The shout box can be installed in just seconds, and it can be used for varying purposes such as leisure and Internet marketing. It also allows a user to customize the size, color, and name of the widget. Chatwing is 100% free for everyone.