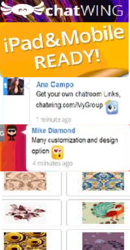 San Diego, CA (PRWEB) April 04, 2013
Seeing the growth of the economical niche, Chatwing Development Team has launched a chatroom that has unique features related to global connectivity. The developers have stated that the newest version of the chat tool can improve the connectivity rate of an economic website by more than 50%. This will lead to better economic discussions and social network expansion.
Chatwing chat app has a social media advantage, compared to other applications available online. Users can log in with their Facebook accounts, allowing them to send invitations to each other. Now, their Facebook networks can grow rapidly and they can even join important economic groups and pages. Twitter users can also log in with their accounts; now, they can monitor the recent trends in global economy. Google and Yahoo users can also login, widening the opportunity for everyone.
Installing the Chatwing tool can be finished within seconds. The chunk of user's time will be spent on customization because Chatwing offers many choices—creativity plays a major part for every chat box design. Currently, there are hundreds of background images available to the traditional user. The user can also upload an image link of his choice.
The economic niche will continue to grow, and the Chatwing tool will also improve for the better as well. To commit to this strategy, the Chatwing Team will push out more platform upgrades in the coming weeks or months. These upgrades will ensure that the platform will always be speedy and reliable in many ways.
About Chatwing.com
Chatwing.com specializes in the new field of website chat. Over years, the Chatwing team has introduced live chat widget for hundreds and thousands of blogs. The Chatwing application bridges people from many parts of the world, creating global synergy through the Internet. The shout box can be installed in just seconds, and it can be used for varying purposes such as leisure and Internet marketing. It also allows a user to customize the size, color, and name of the widget. Chatwing is 100% free for everyone.