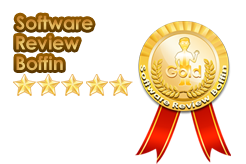 The first-place ranking took all features into consideration in a cumulative scoring process.
New York City, NY (PRWEB) April 03, 2013
Intense competition in the video software converter market means that it is difficult to choose one brand that clearly beats the competitors and also provides an exceptional experience to its users. After conducting a comprehensive review and evaluating the claims made by various video software companies, Software Review Boffin is pleased to announce that Prism Video Converter Software is their pick for the number one software product in this category. The reviewers looked at a comprehensive list of features, and sometimes there were only marginal differences between the top-ranked software and the second best and third best software products in specific features. The first-place ranking took all features into consideration in a cumulative scoring process.
The review analyzed the products from various aspects and found that Prism Video Converter Software meets the quality, functionality, and "ease of use" criteria handily. Boffin holds that this is one video software converter that fulfills its claims and delivers the end product to the customer in a speedy and easy manner. Boffin also praises the NCH Company for providing its customers with a product that is designed so well, and notes that Prism Video Converter Software has been awarded the first position based on its inherent attributes, not the ratings of the company (NCH).
Video converter software reviews often place special emphasis on the ability of the users to easily convert files without any complexities. In its review Boffin gives high points to Prism Video Converter Software for its streamlined design that provides high functionality and speed. The proficiency of the software means that the users will face no difficulty in using the software and will seldom require any customer support from the personnel at the NCH help desks.
The exceptional quality of the Prism Video Converter Software means that the software has earned the praise of several reviewers, along with Software Review Boffin. There is no doubt in the Boffin reviewers' minds that the software deserves the first position within the ranking.
Software Review Boffin strives to provide accurate ratings to its customers and therefore will continue to asses Prism Video Converter Software on a regular basis to ascertain the ability of the software to continue to provide high quality to its users. Furthermore, new video converter software releases and updated attributes of other close competitors will be observed closely, which might result in a change in ratings.
Software Review Boffin reviews the latest technological products on demand in the market right now. They provide expert, honest and straightforward reviews so customers can objectively measure if a product, especially software is well worth it before making their purchase.
To learn more about Software Review Boffin visit http://www.softwarereviewboffin.com