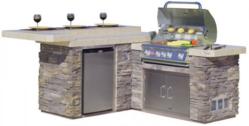 Envision a man standing alongside a flaming grill in a funny apron, burger flipper in one hand and tongs in the other.
Danbury Connecticut (PRWEB) April 03, 2013
Best in Backyards is announcing their new outdoor kitchens islands that are now available in at their six showroom locations across New York and Connecticut.
Envision a man standing alongside a flaming grill in a funny apron, burger flipper in one hand and tongs in the other. This is a stereotypical picture that defines most homeowners' views of cooking outdoors.
In today's world, homeowners are looking for items seen in kitchens to be a part of their outdoor space - grills, counter space, storage, sinks and refrigerators. Homeowners are reconnecting with their backyard like never before; some even want entertainment systems like stereos and TV's to spice up the back patio.
"Many homeowners think the outdoor kitchen is where you just grill and then immediately bring the food back inside the house," said Rolf Zimmermann, VP of sales at Best in Backyards. "That mindset is changing; it's much more than that now."
"The rise in the popularity of outdoor kitchens is in direct response to the economy. People can't afford to move into bigger homes," says Zimmermann. He also says the appeal of outdoor kitchens is that it combines indoor and outdoor living like never before. "People want to enhance their lifestyle and enjoy their lives in the home they have. They want it to look like their indoor living room, but they want to sit outside. It's all about increasing livable space in the current home," says Zimmermann.
Scott Honigsberg, Pres. of Best in Backyards sees the rise in popularity a little differently. "The main reason for the past five or six years is that people are not taking vacations - they're staying at home more and they are not staying indoors." Homeowners have already upgraded their basements and kitchens, now they want to carry the indoor look outside. Honigsberg added, "It's why this market has grown where others haven't."
Outdoor kitchens have become popular because they offer added enjoyment, luxury and relaxation for the homeowner. They expand a home's livable square footage and their return on investment is comparable to an indoor kitchen remodel.
No matter what the customer's budget or outdoor cooking needs may be, Best in Backyards has an option available. For more information on these and many other products at Best in Backyards go to http://www.bestinbackyards.com, visit one of six locations or call 1-800-752-9787.
About Best in Backyards:
Best in Backyards is the retail arm and showroom brand of Eastern Jungle Gym, one of the leading producers and suppliers of outdoor swing sets. The company was founded over 20 years ago by a family with intent to manufacture high quality cedar swing sets, fit to fill any backyard and last a lifetime. The company is located in the northeastern United States with retail showrooms currently located in New York and Connecticut.