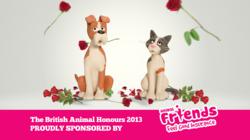 Celebrating the achievements of the world's most extraordinary animals and the people who work with them
(PRWEB UK) 10 April 2013
One of the leading pet insurance specialists Animal Friends Pet Insurance has announced their sponsorship of ITV's The British Animal Honours 2013 in a deal brokered by TCS Media.
The brand new TV event celebrates the achievements of the world's most extraordinary animals and the people who work with them. Filmed in front of a live audience and hosted by Paul O'Grady, it is inspired by the UK's unwavering love and connection with animals.
"We're delighted to be sponsoring The British Animal Honours 2013. Not only is it an important layer in our branding strategy it also offers opportunity to recognise and award the nation's pets for their achievements, something of which we are particularly proud to support." Chris Newnham, Marketing Manager, Animal Friends Insurance.
Whether an animal is brave, heroic, funny or adorable, we love them all; not to mention our animal charities and welfare protection agencies that are influential at every level.
The annual event will reward animals in categories that cover military service and bravery as well as conservation and therapy - with the majority of nominees suggested by the public and ultimately chosen as winners by a 30-strong jury made up of animal experts, charities and celebrities. The Internet Star Award will be voted for by the public via http://www.itv.com/britishanimalhonours
About Animal Friends
Established in 1998, Animal Friends Insurance is one the UK's leading specialist pet insurance providers for dogs, cats and horses. Committed to helping animal welfare charities worldwide, Animal Friends donates large amounts of its profits to animal welfare which to date is over £1million.
Animal Friends is the trading name of Animal Friends Insurance Services Limited, company number 3630812, registered office Animal Friends House, Sunrise Way, Solstice Park, Wiltshire, SP4 7QA. Animal Friends is authorised by the Prudential Regulation Authority and regulated by the Financial Conduct Authority and the Prudential Regulation Authority, FCA Number 307858. http://www.animalfriends.co.uk