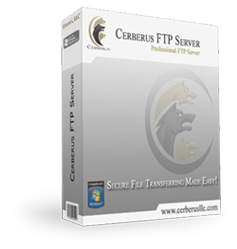 flexible options with robust feature sets
St Thomas, ON (PRWEB) April 03, 2013
Secure file transfer vendor Cerberus FTP has partnered with C&C Software Solutions (C&C) in Canada to increase exposure for their award winning Cerberus FTP Server software.
"Our new partnership with C&C Software is an exciting opportunity for Cerberus LLC," noted Grant Averett, CEO of Cerberus LLC. "We look forward to working with C&C Software and its customers to provide the Canadian market with an intuitive, easy-to-use secure file server."
"Cerberus's secure file transfer solutions are a perfect fit for our SMB resellers," continued C&C's CEO Joan Chandler. "They provide flexible options with robust feature sets, such as Ad Hoc Public File Sharing, at pricing the SMB market will find well within their IT budgets."
C&C Software Solutions (ccsoftware.ca) is a Canadian distributor of best-of-breed software represented in all ten provinces and three territories. Since 1998, C&C Software has provided reliable solutions, rapid order fulfillment, expert technical support, secure online ordering and a distinctly personal approach to a loyal and continually growing base of Canadian software resellers.
Located in Arlington, VA, and founded in 2000, Cerberus LLC is the developer of the Cerberus FTP Server software, a secure file server for Windows. "It's not easy taking a complex software system like a file server and making it user-friendly, but that's just what we've done.
Our growth and success is a result of creating an intuitive, easy-to-use product with the features you need to get the job done."