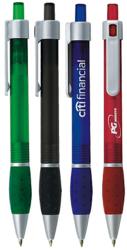 Seattle, WA (PRWEB) April 03, 2013
Supplying companies in the United States and Canada with both affordable and premium promotional pen products for over three decades, 1234 PENS brings a wealth of experience in the industry of branded and personalized gift items. Standard advertising pens are a fantastic option for giveaways at trade shows and public events, but 1234 PENS helps its clients achieve the "wow" factor by offering a wide range of promotional pen gift sets as well.
Providing an affordable and easy way to thank valued clients, featured speakers and honored guests, promotional gift sets from 1234 PENS allow companies to go the extra mile and give a little something more to their VIP contacts. This is particularly appropriate following a speaker or lecture series at an industry event, for example, publicly providing the guest lecturer or speaker with the gift package immediately after his or her presentation. The branded gift sets are also well received as holiday gifts, following special events, or simply as an added thank you to long-time clients.
Each of the promotional gift sets starts with fully customizable logo pens from 1234 PENS. A wide range of promotional pens is available for this purpose. Accompanying the choice of pen is the addition of a complimentary promotional item, such as keychains in bamboo, plastic, leather or chrome. Other accompanying items include matching mechanical pencils, aluminum picture frames, and classy business card holders available in leather, vinyl or metal. Each of these additional promotional items can also be imprinted with the company's information or logo, just like the customizable promotional pen itself.
Just as with all other promotional items from 1234 PENS, the imprinting on the gift set items is available in one of sixteen different colors. Clients have the option to choose between simple text imprints, like the company's name and phone number, or imprints with the full company logo. Promotional gift sets start at only $5.49 each with no setup charge and free ground delivery. As with all products from 1234 PENS, quality is guaranteed.
About 1234 PENS:
In business since 1976, 1234 PENS has helped thousands of clients increase brand awareness and customer loyalty through their high-quality products. 1234 PENS offers pens, pencils and gift sets to suit all budgets, and offers 48-hour delivery on a select number of designs.