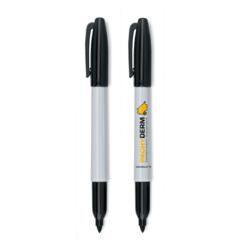 Seattle, WA (PRWEB) April 17, 2013
The Sharpie brand has left an indelible mark on the world of permanent markers, widely used by celebrities and athletes as they sign autographs for their fans. The brand is trusted for making permanent markers that will work on virtually any surface without smudging. 1234 PENS is proud to offer a full range of Sharpie products as part of its expanding lineup of promotional pens. These Sharpie permanent markers can be customized with company branding and logos.
In addition to a wide range of advertising pens in a variety of styles and colors, 1234 PENS also offers promotional pens from such notable and respected pen companies as Paper Mate, Uni-Ball and Expo. It was a natural fit to extend this selection to include permanent markers from Sharpie as well. The original Sharpie was a single product launched in 1964, but the brand has since expanded to include a range of other related products.
The Sharpie pens available from 1234 PENS reflect this growing variety. The standard Sharpie permanent marker is offered as part of the lineup, but 1234 PENS is also pleased to offer Sharpie fine and ultra-fine point markers in a number of colors beyond the standard black. These include markers with blue or red ink, as well as options for green, orange, pink and other colors. The line also includes a selection of Sharpie highlighters in five fluorescent colors, plus twin-tip markers that combine the thick and thin point in a single marker.
For a more premium feel, an exclusive selection of stainless steel Sharpie promotional pens is also being offered by 1234 PENS. Customers have the option of laser engraving on either the cap or the barrel. Sharpie markers with the standard plastic body are also customizable, imprinted in one of sixteen different colors with company branding.
With over one billion promotional pens sold to date, 1234 PENS provides its customers with a trusted brand, respected customer service, and proven high quality products. For more information on the selection of Sharpie promotional pens from 1234 PENS, visit
http://www.1234pens.com/sharpie-promotional-pens.html
About 1234 PENS:
In business since 1976, 1234 PENS has helped thousands of clients increase brand awareness and customer loyalty through their high-quality products. 1234 PENS offers pens, pencils and gift sets to suit all budgets, and offers 48-hour delivery on a select number of designs.