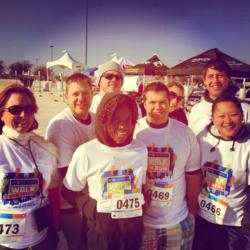 We believe it's important to raise both funds and awareness for the Be The Match Foundation so that cancer success statistics increase and we beat this horrible disease.
Dallas, Texas (PRWEB) April 18, 2013
Foundation Financial Group employees at the Dallas, Texas Regional Sales Center located at 1903 Central Drive, Suite 201, participated in the Be the Match Foundation's Be The One Run. The employees ran in the event and made a monetary donation.
"Over 70 percent of people diagnosed with blood cancers do not have a donor in their family," said Foundation Financial Group Event Coordinator Andrew Postell. "They rely on the Be The Match Registry to find a match to save their lives, which comes down to chance. We believe it's important to raise both funds and awareness for the Be The Match Foundation so that cancer success statistics increase and we beat this horrible disease.
Be The One Run is a walk and run event for people of all ages and fitness levels. It includes a 5K, a 1K and a short-distance Tot Trot. Be The One Run unites communities nationwide determined to help patients with diseases like leukemia and lymphoma. Every step participants take helps patients receive the marrow transplant they need. The Be The One Run raises funds to support transplant research, help patients with uninsured costs, and grow the Be The Match marrow donor registry.
The Be The Match Foundation raises funds and awareness to help all cancer patients in need of a bone marrow donor receive the marrow or cord blood transplant they need, when they need it. Every year 10,000 patients with leukemia, lymphoma and 70 other life-threatening illnesses need a marrow transplant but have no donor match in their family. They depend on Be The Match to help them find an unrelated donor and receive the transplant they need.
"I'm so proud to be able to support this cause," continued Postell. "Many of us have to work; we have bills, families, needs, wants, etc. But when you work at a company and you can go home feeling proud about the work that you accomplished then it turns into something else besides just a paycheck. You can go home and tell your friends and family how you helped someone, genuine help. Not only do you feel proud and gratified but so does your family. No amount of money can measure that emotion. We had a blast participating in the Be The One Run and we cannot wait for the next event."
To find a Be The One Run in your area, visit bethematchfoundation.org.
About Foundation Financial Group
Foundation Financial Group is a multibillion dollar financial services corporation. FFG offers its customers Best in Class service through its Insurance, Retirement, and Mortgage Services. Named one of the fastest growing financial companies in the country by INC magazine, FFG has continued to grow its nationwide presence with over 100,000 new customers per year in 39 states. In addition to the value that Foundation Financial provides every customer, it is also dedicated to its communities and the people who live in them. Through a vast array of philanthropic endeavors the company not only provides significant monetary donations but also fosters a workforce environment that encourages all team members to personally make a difference. Foundation Financial is committed to its strong focus on customer service and community investment as it continues to grow and compete with the largest financial institutions in the world.
Foundation Financial Group reviews all public relations inquiries. For additional information, interview and image requests, contact the Foundation Financial Group Public Relations team.