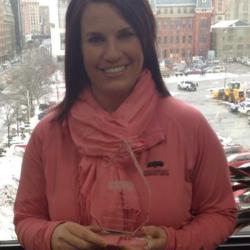 Lisa is an outstanding employee with an excellent work ethic and a drive to constantly improve herself and those around her.
Rochester, NY (PRWEB) April 16, 2013
Foundation Financial Group employees and executives from across the nation awarded the Timothy Brosier Diamond Award for outstanding service during the fourth quarter of 2012 to Lisa Ross.
Ross, a graduate of Mercy College in Dobbs Ferry, New York, is an Assistant Vice President of Underwriting at Foundation Financial Group's Rochester Regional Sales Center, located at 1 South Washington Street, Floor 3. For her prize, Ross selected a pair of customized snow skis. She will also receive a crystal diamond statue, compliments of Foundation Financial Group.
Each quarter, Foundation Financial Group honors one of its employees for outstanding service and for going beyond the call of duty while maintaining a positive attitude. Foundation Financial employees nominate their fellow colleagues for the Timothy Brosier Diamond Award each quarter, and the FFG executive team then reviews all nominations and selects one winner.
"Lisa is an outstanding employee with an excellent work ethic and a drive to constantly improve herself and those around her," said Foundation Financial Group's CEO Mark W. Boyer. "She loves her co-workers and FFG. We are proud to present Lisa with our Diamond Award."
The Timothy Brosier Diamond Award honors the legacy of Timothy Brosier, a Foundation Financial Group employee who worked in the company's Savannah, Georgia regional center before he passed away from cancer in late October 2010. Although Brosier only worked for Foundation Financial Group for four months, he touched many lives through his energy, sense of humor and ability to encourage others with a "no excuses" attitude. Brosier, a native of Beloit, Wisconsin, played football and baseball at Beloit Memorial High School and later served in the U.S. Army and the National Guard.
The Timothy Brosier Diamond Award is one of the many ways that Foundation Financial Group demonstrates its commitment to its employees, and illustrates the company as a great place to work. The company has been built on a culture of hard work, ethics, efficiency, philanthropy and speed – all under rapid growth and expansion.
About Foundation Financial Group
Foundation Financial Group is a multibillion dollar financial services corporation. FFG offers its customers Best in Class service through its Insurance, Retirement and Mortgage Services. Named one of the fastest growing financial companies in the country by INC magazine, FFG has continued to grow its nationwide presence with over 100,000 new customers per year in 39 states. In addition to the value that Foundation Financial provides every customer, it is also dedicated to its communities and the people who live in them. Through a vast array of philanthropic endeavors the company not only provides significant monetary donations but also fosters a workforce environment that encourages all team members to personally make a difference. Foundation Financial is committed to its strong focus on customer service and community investment as it continues to grow and compete with the largest financial institutions in the world.
Foundation Financial Group reviews all public relations inquiries. For additional information, interview and image requests, contact the Foundation Financial Group Public Relations team.