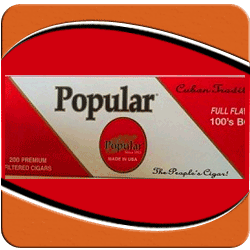 We believe in doing lots of promotions and sales throughout the year
(PRWEB) April 02, 2013
Popular little cigars are already affordable priced, but True Tobacco's super sale will make them even more of a bargain.
"It's time to stock up for sure," laughs Nick Gordon, TrueTobacco.com's general manager. "We believe in doing lots of promotions and sales throughout the year. Many new prospective customers flock to our site during our specials. They turn into regular customers once they see the amazing selection TrueTobacco provides and how great our customer service is."
Little Cigars Versus Cigarettes
"Many people don't know the difference between a cigarette and a little cigar," notes Nick Gordon. "After all, the two smokes are roughly the same size and shape."
The difference between cigars and cigarettes is that cigarettes are designed to be inhaled, while cigars are not. It's true that many little cigars have filters. The filters are not engineered to facilitate inhalation, however. The filters are much smaller than cigarette filters. They are there to prevent cigar smokers from chewing on the ends of little cigars, and to keep loose shreds of tobacco out of cigar smokers' mouths.
A cigarette is made from shredded tobacco that has been dried and processed with chemicals, many of them quite toxic. The only flavoring agent that cigarettes are allowed to use is menthol. Little cigars, on the other hand, often use tobacco that has been infused with flavors like chocolate, vanilla and cherry.
Little cigars have become increasingly popular since they were first introduced in the 1990s. They satisfy cigar lovers' desires for a flavorful smoking experience that can be enjoyed from beginning to end in a single sitting. Sales of little cigars increased 240 percent between 1997 and 2007. In 2006, over four billion sticks were sold in the United States. The Popular brand offers extremely high quality little cigars at exceptionally low prices.
About TrueTobacco.com: TrueTobacco.com has become the go-to site for cigar lovers since its launch in the fall of 2012. The company provides a great selection of products with over 150 brands of cigars and cigar-related products to choose from. Products are priced affordably to begin with, and TrueTobacco's frequent sales and promotional specials make them even more affordable.
At TrueTobacco.com, the customer is boss. TrueTobacco guarantees customer satisfaction on all deliveries. Shipping is free for every order totaling $200 or over. Whether customers are ordering a box, a bundle or a sampler, cigars arrive fresh and delivery is quick. To enjoy this huge sale, visit the following URL:
http://www.truetobacco.com/product-category/cigars/cheap/little/popular-little-cigars/
About the Popular little cigars: Popular little cigars are another fine product from the Virginia Carolina Corporation. They come in full flavored, light, menthol and cognac, and are packaged 200 to a carton.