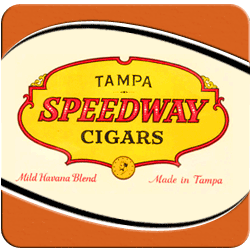 I know our customers will be pleased with this long-awaited addition
(PRWEB) April 04, 2013
"It's an exciting day here at TrueTobacco.com," remarks General Manager Nick Gordon, TrueTobacco.com, "the anticipation for the release of Speedway Little Cigars has been building for quite some time now, and we are happy to introduce a new brand of quality little cigars that is budget friendly."
The boxes will come with 10 cartons of 20 sticks each, and at the amazing price of $8.99 is only $0.05 a smoke. TrueTobacco.com is not interested in over-charging their customers, which is why Speedway Little Cigars can be found at their website for nearly 40% off retail. The stogies are mild, but do not lack flavor.
TrueTobacco.com is offering three different Speedway Filtered Cigar lines: Full Flavor, Light, and Menthol. These three brands cater to the needs of every mini cigar smoker on the market.
Speedway Little Cigars focus on perfecting the flavors that they offer; therefore, they have not yet introduced the wide range of flavors that are found in some little cigar brands. These cigars are perfect for enjoying the deep, rich flavor of cigar tobacco, and their price makes them a great smoke to share.
The unique and smooth flavors of Speedway Little Cigars make them perfect for any weather or occasion. They are equally enjoyable on a cold winter night, or hot summer afternoon. These filtered cigars are unmatched in smoothness and ease of draw in their price category.
"We are always looking for new products to introduce to our customers, and these small cigars are the newest addition to the little cigar family at TrueTobacco.com," commented Nick Gordon, General Manager, TrueTobacco.com, "I know our customers will be pleased with this long-awaited addition."
These small American cigars offer an exotic taste with their Cuban seed filler. All three flavors produce a deep and rich flavor that is uncharacteristic of such a small stick (less than 4 inches!). As if the 40% discount weren't enough to entice the customer, TrueTobacco.com is also offering 4 Loyalty Points for each carton purchased, which can be redeemed for any of their cigar brands.
This is the best deal out on the market for Speedway Filtered Cigars, and can also be combined with other offers like free shipping or discounts for sharing purchases on social media sites like Facebook and Twitter. To find out more, visit:
http://www.truetobacco.com/product-category/cigars/cheap/little/speedway-little-cigars/