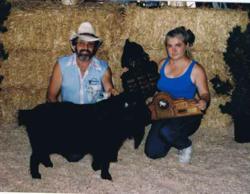 Hollywood elites and international dignitaries choose Amber Waves for their pygmy goat needs
Norco, California (PRWEB) April 18, 2013
It's officially spring, and with spring and summer being the big seasons for bringing new pets into the household, Amber Waves is offering African pygmy goat babies for sale throughout the spring. African pygmy goats are excellent, lovable pets for people of all ages! Inexpensive and as easy to raise as dogs, these playful yet docile little unique goats sell out quickly at Amber Waves.
In addition to providing their owners with affection and entertainment, pygmy goats can provide a whole new hobby the whole family can enjoy by entering goats into shows. When planning to show goats, it is important to purchase a goat that is registered with the National Pygmy Goat Association, which Amber Waves offers. A female goat can also provide owners with up to 2/3 gallon of fresh, wholesome milk per day at the peak of her lactation. Of course, many owners keep African pygmy goats just for the pleasure of their company!
Hollywood elites and international dignitaries choose Amber Waves for their pygmy goat needs because after 31 years in the business, Amber Waves knows how to produce healthy, beautiful goats and provide customers with excellent service. As a family-friendly, private breeder, Amber Waves proudly provides all of its customers, from celebrities to everyday families, with Lifetime Support with each animal purchased. Amber Waves ships pygmy goats worldwide for the convenience of its customers.
Specializing in rare, highly sought after Agouti and Grey/Brown African pygmy goats, Amber Waves goats have been popular for color alone for many years. However, after being featured on Animal Planet, the Tory and Dean Show, and National Geographic, the Amber Waves African pygmy goats have become rather famous! With all the buzz surrounding these miniature goats, they sell out fast, so contact Amber Waves as soon as possible to secure an authentic African pygmy goat today! Amber Waves accepts deposits and has babies available for sale year round.
Visitors are always welcome by appointment at Amber Waves. Please make an appointment online and read the great reviews on the Amber Waves website. Ranch tours include interactions with other Amber Waves animals in addition to the pygmy goats, so many leave wanting to purchase purebred Silkie chickens or Black Copper French Maran chickens by the end of the day too!
To purchase African pygmy goats from Amber Waves and for more information on the breed in general, visit http://amberwavespygmygoats.com or call (951) 736 – 1076.
Amber Waves
Established in 1982 in Norco, California, Amber Waves is committed to producing high quality, registered African pygmy goats for breeding, showing, and family pet purposes. Over the years Amber Waves has become an industry leader, accumulating prestigious awards such as 428 Champions, four Premier Exhibitor awards, seven Premier Breeder awards, five Herdsman awards, and one National Champion Buck award. Kiddings are available year round and may be shipped both nationally and internationally. Occasionally proven bucks and does are also available for purchase.