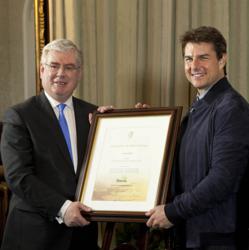 Tom Cruise is delighted to receive his Certificate of Irish Heritage
(PRWEB) April 04, 2013
The Tánaiste and Minister for Foreign Affairs and Trade welcomed Hollywood star Tom Cruise to Iveagh House on Wednesday 3 April, to present him with a Certificate of Irish Heritage. The Tánaiste (Deputy Prime Minister), Eamon Gilmore said he was delighted to welcome Tom Cruise back to Ireland and particularly delighted to help him celebrate his Irish heritage.
Tom Cruise was presented with the inaugural Gathering Certificate, a special edition Certificate, signed by An Taoiseach, Enda Kenny, and the Tánaiste and designed to celebrate The Gathering, 2013, a spectacular, year-long celebration of all things Irish. The certificate states that Tom Cruise is a descendant of Patrick Russell-Cruise, who born in 1799 in Drynam, Co. Dublin, and his Irish lineage can be traced back as far as 13th century Dublin.
Speaking at the presentation, the Tánaiste Eamon Gilmore said "The Certificate of Irish Heritage recognises the many people worldwide who are of Irish descent. It is an important acknowledgement and appreciation by the Irish State of the strong and enduring connection to Ireland felt by millions of people around the world.
It is wonderful to see Tom's lineage traced back to 13th century Dublin. In presenting Tom with his Certificate of Irish Heritage, we are honouring his ancestors and, in the true spirit of The Gathering, welcoming him and his family into our global Irish community."
The first Certificate of Irish Heritage was presented posthumously to Joseph Hunter, a New York Fireman who lost his life in the 9/11 terrorist attacks on the World Trade Centre by the Tánaiste in September 2011. Certificates have also been presented to Presidents Obama and Clinton, Vice President Biden and Daniel Day Lewis.
The Certificate is an official program of the Irish Government. Anyone who is of Irish descent can get a Certificate of Irish Heritage. Certificates can be given as gifts so for example parents, siblings and partners can present it to other family members and friends. Each Certificate is unique, and comes in a number of designs, reflecting themes of Emigration, Landscape and Celtic design. Each Certificate is a personal record of the recipient's Irish roots, showing the name of their Irish ancestor and the town or parish in Ireland from which they came. The certificate is a keepsake that can be passed on to future generations.
Apply or get further information at http://www.heritagecertificate.com.