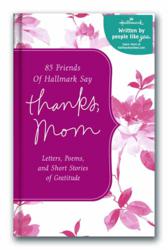 Kansas City, MO (PRWEB) April 01, 2013
She's your teacher, cheerleader, confidante, and friend. Mom has done more for you than you probably even realize. Hallmark today announces the winners in its recent book-creation contest, "Thanks, Mom." Hopefuls were invited to write a letter, short story, or poem that's sweet, sincere, or funny thanking mom for all she's done. Contestants submitted their creations in May 2012.
The 100 winning submissions were compiled into a book, which is now for sale in Hallmark Gold Crown Stores nationwide just in time for Mother's Day. Winners each received $50 and two free books.
Hallmark judges looked for submissions with strong writing that would speak to many different mother-type relationships, and would inspire countless mothers and daughters alike. Participants could enter a total of three categories for this contest – letter, short story and poem. Entrants were also encouraged to check out the Hallmark Contest Facebook page for tips on this contest.
The 85 individual winners are from 31 different U.S. states and two provinces of Canada. Twelve winners won twice and two winners won three times. Here are the winners in Hallmark's "Thanks, Mom" competition:
Valerie Aleksandruk, Norristown, Pa.
Patricia Allen, Florissant, Mo.
Lorenzo Alviso, Rohnert Park, Calif.
Donna Anderson, Frisco, Texas
Patricia Anderson, Webster, Wisc.
Jo Ann Aragona, Tannersville, Pa.
Jaz Azari, Arlington, Va.
Joelle Beebe, Midland, Mich.
Jennifer Bloech, Wilmington, N.C.
Kristin Boone, Fairmont, W.V.
Melissa Borza, Gibsonia, Pa.
Ed Bracht, Elkton, Fla.
Michelle Brosnan, Westbury, N.Y.
Larry Carter, Dallas, Texas
Devanee Chapman, Boerne, Texas
Stuart Chapman, Boerne, Texas
Patty Cimlov-Zahares, San Jose, Calif.
Dolores Comparri, Richland, N.J.
Sue Curtis, Troy, Ohio
Theresa Drinnon, Maryville, Tenn.
Marcia Dutschmann, Hewitt, Texas
Patricia Ebert, Greensburg, Pa.
Jill Eisnaugle, Texas City, Texas
Hannah Faiguenbaum, Huntington, N.Y.
Rebecca Farrell, Newark, Del.
Jenny Fenlason, Minneapolis, Minn.
Tricia Foster, Omaha, Utah
Bridget Fullerton, Toledo, Ohio
Grace Fulljames, Henderson, Nev.
Thomas Gilbert, Santa Fe, Texas
Carolyn Gingerelli, Minneapolis, Minn.
Sandra Groth, Dorchester, Wisc.
Jennifer Harris, Hodgenville, Ky.
Jaime Hassig, Houston, Texas
Lynne Hayes, Mission Hills, Kan.
Cheri Heath, Chicago, Ill.
Brenda Hennigs, Elkhorn, Neb.
Linda Hullinger, Montgomery, Texas
Sue Jones, Buffalo, Iowa
Larry Katz, Havertown, Pa.
Corrie Kirk, Saskatchewan, Canada
Sheree Knighton, Newton, N.C.
Madeleine Kuderick, Palm Harbor, Fla.
Rebecca Kyle, Austin, Texas
Annette LaMore, Manteno, Ill.
Armanda Liedke, Windham, Maine
Linda Lindsay, East Wenatchee, Wash.
Linda Manning, Cedarhurst, N.Y.
Lisa Mays, Franklin, Va.
Megan McAuliffe, Greensboro, N.C.
Leslie McCrary, San Antonio, Texas
Coleen McCrea Katz, Havertown, Pa.
Karen Messick, Statesville, N.C.
Marya Morin, Quebec, Canada
Paula Mortimer, Chilton, Wis.
Gloria Mulder, Yale, Okla.
Kimberly Murray, Livonia, Mich.
Bennie Newsome, Birmingham, Ala.
Cindy Ponko, Richfield, Wis.
Melinda Pritzel, Olathe, Kan.
Connie Pullen, Eagle Creek, Ore.
Eileen Reese, Saskatchewan, Canada
Bevin Reinen, Virginia Beach, Va.
Diane Reyerson-Warren, Canton, Ga.
Annette Robidoux, Fruitport, Mich.
Jacquie Roland, Saugerties, N.Y.
Judah Rosenstein, Elkins Park, Pa.
Summer Ruegger, Sandy, Ore.
Cheryl Sands, Lees Summit, Mo.
Jaime Schreiner, Saskatchewan, Canada
Deana Scott, Quincy, Ind.
Andrea Semilia, Doylestown, Ohio
Mar Sension, Altoona, Pa.
Elisa Sinclair, Chesapeake, Va.
Rachel Sprague, Seattle, Wash.
Katelyn Stenger, Stow, Ohio
Ginny Tank, Belvidere, Ill.
Andrea VanWashenova, Canton, Mich.
Rita Vetsch, Monticello, Minn.
Dorann Weber, Browns Mills, N.J.
Bonnie Weise, Muskegon, Mich.
Theresa Whitehead, St. Louis, Mo.
Lisa Willmon, Houston, Texas
Tracy Windsor, Douglasville, Ga.
Jennifer Wooller, Holyoke, Ma.
New Competition Open April 1
Hallmark's latest competition, "Celebrate Him," will be accepting submissions April 1-21. Consumers are invited to create a sweet or funny birthday card that appeals to the guys. Photo and illustration will be accepted. For more information or to submit a design, visit Hallmarkcontests.com.
About Hallmark Cards, Inc.
Hallmark makes the world a more caring place by helping people express what's in their hearts and spend time together – a privilege few other companies in the world enjoy. Hallmark greeting cards and other products are found in more than 39,000 retail outlets in the United States, including the network of flagship Hallmark Gold Crown® stores. The brand also reaches people online at Hallmark.com and on television through Hallmark Hall of Fame original movies and cable's top-rated Hallmark Channel. Worldwide, Hallmark offers products in more than 30 languages available in 100 countries. This privately held company is based in Kansas City, Mo., and is led by the third generation of the founding Hall family. Visit http://corporate.hallmark.com for more details.