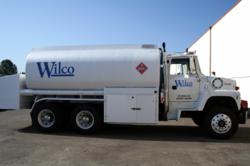 Wilco will acquire and add 1.6 million gallons of bulk petroleum and bulk lube oil business to its existing 14 million gallon service base
Mount Angel, OR (PRWEB) April 01, 2013
Wilco, an Oregon based agricultural supply cooperative is pleased to announce the purchase of Laughlin Oil Company bulk fuel and lube business from ARS Fresno effectively serving customers beginning March 30, 2013. Laughlin Oil has proudly served the western Willamette Valley for many years from its McMinnville headquarters and will continue their ownership and operation of retail fuel stations and commercial card locks in the region. Wilco is proud to continue serving the 500 former Laughlin bulk fuel and lube customers with high quality products and exceptional customer service. Wilco's corporate office is located in Mt. Angel, Oregon, approximately 20 minutes northeast of Salem, Oregon. Wilco has been in business since 1936, serving the needs of growers in the Willamette Valley and surrounding areas.
Wilco has been a member owned cooperative since 1936, and today is the Northwest's #1 Agricultural Supply Cooperative. Wilco currently operates 22 locations including retail farm stores and ag centers with annual sales around 250 million dollars. The company has steadily and profitably grown throughout the Northwest and SW Washington providing products, programs and services for a broad range of customers. Wilco's driven purpose is to continue to find ways to enhance the lifestyle and success of ag producers and farm owners, hobby farm owners, as well as suburban home owners with its proven menu of quality products and services and dedicated, knowledgeable staff.
Adding the service of former Laughlin Oil Company further positions Wilco to deliver on the goals of providing quality bulk petroleum products and exceptional service to our customers, while continuing to show value to our grower-membership.
To see a full listing of Wilco locations and services, go to http://www.wilco.coop