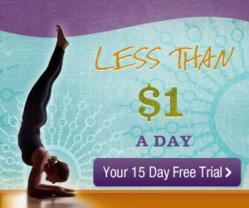 The Spring Equinox finally turned up and now it's time to mentally and physically get on board with the season.
Charlotte, NC (PRWEB) April 09, 2013
The Spring Equinox finally turned up and now it's time to mentally and physically get on board with the season.
Spring is a time of new beginnings, new awakenings, new life, new blooms, and new energy. It only makes sense to follow suit and shift with the season - to reawaken and renew the mental, emotional, and physical bodies.
To greet spring and gear up for the not-so-distant summer, practice these energetically uplifting, strengthening, cleansing, and sweat-stimulating online yoga videos:
New Beginnings Slow Flow with Cristi Christensen, Exhale Spa
Work with the elements of fire and water in this online yoga class celebrating the end of the winter cycle and the awakening of spring. Start with a seated meditation and movements to clear out the spine. A standing sequence will be followed by core work to burn off negativity and limiting self-beliefs. Enjoy standing balances, side crow, and an opportunity for self-expression and backbends. Lastly, settle into a blissful savasana. (88 mins.)
Xen Strength Yoga: Intense Core & Detoxifying Twists with Danielle Diamond
Intense core moves deliver balance training, functional fitness, and a slimming detox/twist routine in this online yoga with weights class. Get an intense calorie burn without sacrificing precise alignment and all of the benefits of yoga. Sculpt, lengthen, and challenge every muscle group in this playful, online Vinyasa flow. (20 mins.)
Xen Strength Yoga: Lower Body Focused Routine with Danielle Diamond
Melt inches off the glutes, get the rear in gear, and lengthen and tone the legs in this challenging online yoga with weights class. Follow up this unique Vinyasa experience with a restorative cool down. (28 mins.)
Triceps Toner with Desi Bartlett
In this free online yoga video, run-through a simple side plank series to get the triceps toned and taut for tank top weather.
Hanumanasana! Post Workout Stretch & Cool Down with Joan Hyman
To counter-balance all of the elevated physical and mental stimulation of the season, practice a restorative online yoga sequence designed as a cool down for runners, hikers, or any athlete. Wind down from intense physical activity and stretch out the hips, hamstrings, and psoas muscles to work into Hanumanasana (full splits). (31 mins.)
Don't put off necessary emotional and physical spring-cleaning. Do yoga to awaken the mind, release emotional toxicity and stagnation, and feel a sense of lightness. Do yoga to render the body healthy, vibrant, and beach-ready.
Spring into gear with YogaVibes!
ABOUT YOGAVIBES
Looking for the best online yoga classes? Look no further! YogaVibes.com is an online realm for high-quality, authentic yoga classes and instructional videos captured in a real studio with real students. YogaVibes offers a diverse selection of online yoga classes from the best yoga teachers in the world, making learning and living yoga easy in everyday life. YogaVibes' mission: To create a supportive, challenging, and welcoming online community of passionate and inspiring yogis.