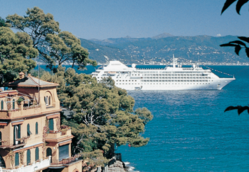 Silver Cloud is often described by returning guests as their own private yacht, their home away from home.
Norcross, GA (PRWEB) April 05, 2013
First Financial Security empowers and rewards the elite performance of entrepreneurial dreamers it attracts through an annual Dream Destination event. The opportunity enables associates from all cultures and walks of life to experience world-class luxury at new exotic locales. While aboard the Silver Spirit during this year's Caribbean Dream Destination trip, President/CEO Phil Gerlicher announced plans for Dream Destination 2014: First Financial Security is set to sail in Mediterranean style from Monte Carlo to Rome with stops at ports in France and Italy.
First Financial Security will host nearly 300 agents, employees, and special guests aboard Silver Cloud, a distinctively lavish Silversea vessel. As a full ship charter, patrons will experience the exclusive luxury of boarding Silver Cloud with fully customized itinerary and ultimate privacy. Silversea Cruiseline prides "Silver Cloud [as] often described by returning guests as their own private yacht, their home away from home."
FFS is headquartered outside Atlanta in Norcross, Georgia and is led by President/CEO Phil Gerlicher. First Financial Security, Inc. (FFS) has quickly established leadership in the financial services industry through its successful model designed to serve the wants and needs of Middle America and "create wealth for families with [our] products, services and unique business opportunity." First Financial Security, Inc.
FFS offers any business entrepreneur the chance to "be in business for themselves, but not by themselves." To secure the reach and integrity of this vision, First Financial Security is partnered with some of the most reputable financial companies in the industry. By combining one of the world's largest, most stable industries with the proven efficiency and profitability of First Financial Security systems, First Financial Security realizes its mission to lead the 21st century financial revolution.
Join the conversation and receive updates about the latest industry and FFS developments by visiting First Financial Security's Facebook Page and following First Financial Security on Twitter @FFSNews .
For more information, contact:
Phil Bransom
Media Director
First Financial Security, Inc
phil.bransom(at)firstfinancialsecurity(dot)com
503-452-6140 T
503-452-6141 F