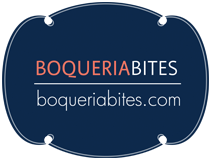 The site makes it easier for tourists and locals alike to choose which tour suits them the most
Barcelona, Spain (PRWEB) April 03, 2013
The recently launched site, BoqueriaBites.com, aims high: to provide a wide range of food tours and food workshops connected to the world's most famous open food market.
The eleven tours on the site are designed to satisfy all needs. The selection focuses on La Boqueria Market in general and on specific food groups Catalonia is famous for. The Classic Tour is a great introduction to the bustling world of La Boqueria; the Cheese and Wine Tour is perfect for those interested in these scarcely exported products. There is Meat Tour for the lovers of jamon, Seafood Tour of the freshest shrimps and fish available, and Tapas Tour that is a perfect option to taste several different kinds of local delicacies.
One of the many options is the Chef-Guided Tour that takes the group around with the help of a professional local chef, granting the participants insight on the vital role La Boqueria plays among local restaurants. For those who want to get an even deeper insight to the local cuisine, the Cooking Workshop will let participants in on the secrets of the authentic "Catalan taste."
What makes the options even more attractive is that most of the tours are customizable, so all eleven tours can be tailored to suit personal taste. The site makes it easier for tourists and locals alike to choose which tour suits them well as it provides a vast amount of tips and information about local sights as well as landmarks.
For more information, visit BoqueriaBites.com.