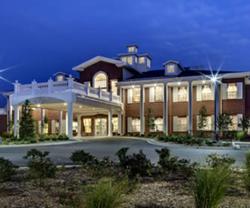 We look forward to continuing the traditions and high level of service established by Sears Methodist.
Des Moines, IA (PRWEB) April 08, 2013
Life Care Services, An LCS Company®, is honored to announce its association with Sears Methodist Retirement System (Sears Methodist) headquartered in Austin, Texas. Life Care Services will provide a full range of management and marketing services to 11 senior living communities and health centers, including three Texas State Veterans Homes (TSVH) effective April 1.
The Sears Methodist communities represent 1,722 total units, including 685 independent living apartments, 102 assisted living apartments, 34 memory care and 901 skilled nursing beds. There are 1,326 Sears Methodist community-based employees and 43 corporate employees serving seniors at the following communities:

Desert Haven, Odessa
Meadow Lake, Tyler
Mesa Springs, Abilene
The Canyons, Amarillo
The Craig, Amarillo
The Garrison Center, Lubbock
The Parks, Odessa
Wesley Court, Abilene
Alfredo Gonzales TSVH, McAllen
Ambrosio Guillen TSVH, El Paso
Lamun-Lusk-Sanchez TSVH, Big Spring
"We are privileged to partner with Sears Methodist and are fully committed to supporting its mission and vision of providing leadership and quality services to Texas seniors," says Rick Exline, LCS Executive Vice President/Director of Operations.
D. Keith Perry, President and Chief Executive Officer of Sears Methodist notes, "In addition to having similar organizational ethics and principles, the strategy to select Life Care Services meshes with our succession plan. With my retirement on the horizon, it is important to lay the best possible foundation for the future. Life Care Services brings 42 years of experience in successfully managing multiple communities in challenging economic and regulatory climates."
According to Dr. Jeff Smith, Sears Methodist Board Chair, "As we look ahead to the planned 2013 retirement of D. Keith Perry who has been our CEO for the past 24 years, we strongly believe that by using Life Care Services as our management company we will continue to be well positioned to respond to this leadership change. This partnership also gives us the strongest position possible to address the many expected changes on the national and state political fronts, especially in light of anticipated Medicare and Medicaid funding reductions and the implementation of the Affordable Care Act. Our Board strongly believes that by making the strategic transition decision to partner with Life Care Services, our future will be very bright as we always keep focused on our mission of doing what is best for our residents, staff members and supporters in the communities in which we are privileged to operate."
Greg Williams, currently Vice President/Director of Operations Management for Life Care Services has been selected to serve as President/CEO and will be based in Austin.
"We look forward to continuing the traditions and high level of service that Sears Methodist has established with its communities throughout the state," says Exline.
About LCS® and Life Care Services™
Based in Des Moines, Iowa, LCS is a leading provider of high-quality senior lifestyle products and services. The LCS Family of Companies focus on strategic planning, development, operations management and marketing and sales management for 115 senior living communities, home health care and companion services, senior living community ownership, insurance and national purchasing consulting. Established in 1971, Life Care Services is the nations' leading manager of senior living communities and currently provides operations and marketing and sales management services for over 28,000 residents in 28 states and the District of Columbia. For more information, visit lcsnet.com and lifecareserviceslcs.com.
About Sears Methodist Retirement System
Sears Methodist Retirement System was the first aging-service system in the nation to be accredited for across-the-board excellence by the prestigious Continuing Care Accreditation Commission (CCAC) in Washington, D.C. Named for two West Texas ranching families; Sears Methodist first opened its doors to 30 residents in 1966 in Abilene, Texas. Today, the nonprofit faith-based organization has grown to serve more than 1,500 residents in Abilene, Amarillo, Lubbock, Odessa, El Paso, McAllen and Big Spring. The System's continuum of care services include independent-living executive homes, cottages and apartments, assisted living services, traditional nursing care centers with wings dedicated to Alzheimer's and dementia care, Medicare skilled nursing care, and a long-term care teaching facility located on the Texas Tech University campus. For more information, visit http://www.sears-methodist.com.