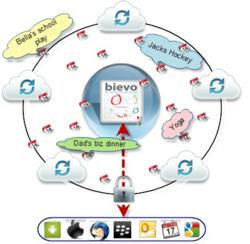 Leave it to Bievo to integrate all your work, youth sports, church and other family calendars - Lynn Hurley, CEO, Bievo Software, Inc.
Concord, MA (PRWEB) April 02, 2013
Bievo Software, Inc., the Internet's premium online calendar server provider, announces a new round of funding raising $250,000 USD.
"We are pleased to make this announcement," says Lyn Hurley, Bievo CEO. "So, that we can now focus on the rollout of new products and services for the online family calendar industry. Additionally, we now have funding to support further development of targeted marketing campaigns for our offerings to customers, based on the locations of scheduled events as well as shared interests."
Bievo's Adaptive Calendaring server allows subscribers to easily acquire local calendars of interest on their handheld devices as well as conventional browser-based systems. Bievo allows you to seamlessly integrate work calendars using conventional calendaring protocols, such as iCal, Outlook and CALDAV with other personal calendars provided by such organizations as youth sports leagues, churches, municipalities, local schools, etc.
Hurley went on, "The possibilities are endless. Bievo gives you one single place to manage your families activities, even when out and about."
A better managed life is a click away: Manage schedules the easy way