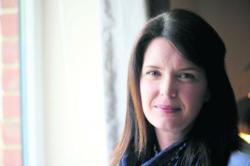 It was clear there was something wrong with me
Bolton (PRWEB UK) 3 April 2013
With Bowel cancer number recently being reported as rising up to 30% [4], 33 year old mother of two, Liz Irwin, has recently came forward to urge young people to challenge the diagnosis given to them by their GP's if they feel there has been a mistake.
Five years ago, the teaching assistant from Chalgrove fell increasingly ill after being repeatedly misdiagnosed with Irritable Bowel Syndrome and gastroenteritis. Liz was suffering from drastic weight loss and harrowing stomach pains, however doctors failed to recognise that she was in fact suffering from something much more sinister, an aggressive form bowel cancer that needed lifesaving surgery. The mother of two was signed off sick from work and told the Oxford Times 'It was clear there was something terribly wrong with me'.
Fortunately for Liz, doctors caught the tumour before it managed to spread too far to become irreversible, however because it had spread into her bowel it left her with no option but to have a third of her bowel removed. Months after her first suspicions surgeons finally managed to remove 32 lymph nodes that were causing the problems in the bowel, narrowly escaping being fitted with a colostomy bag.
Ms. Irwin now feels as if the cancer and the resulting surgery have had a massive impact on her way of life, encouraging her to lead a healthier lifestyle to give her the best chances of maintaining her well being. In her interview with the Oxford Times she stressed the importance of going to see your GP no matter how small the symptoms are. She continued to say how she always believed bowel cancer only affected older people but wanted to break the misconception saying 'if I can help just one person recognise the symptoms of bowel cancer it will be worth it'.
Rates of bowel cancer misdiagnosis have drastically increased in the last few years with more and more stories in the media coming to light over the battles people are facing in receiving the correct treatment. With NHS cuts, hospitals are becoming more and more stretched and doctors are failing more often to diagnose patients, particularly with cancer.
A spokesperson for the Oxfordshire Primary Care Trust said 'Bowel cancer is a rare disease in people under 40; eight out of ten people who get cancer of the bowel are over the age of 60, but if you are worried that you have been misdiagnosed, go back to your GP and discuss your concerns with them'.
Diagnosing colon cancer can be very difficult because the symptoms of the disease can be very closely reflective of other diseases, such as IBS etc. Colon cancer also very rarely has any substantial early symptoms so in some cases doctors fail to do any follow up testing, or investigate any abnormal results in thoughts that it may be related to something else other than cancer [3]. However with Bowel cancer being the second biggest cause of the death in the UK, the number of misdiagnosis cases remains relatively large.
Asons Solicitors urges any victims of cancer misdiagnosis to come forward and contact a solicitor to find out if there is eligibility for a compensation claim; to cover the costs that have occurred by the delay of treatment, but also as for the emotional distress that it can cause. A misdiagnosis of colon cancer could include; a doctor failing to notice the symptoms of colon cancer, failing to complete the correct and necessary examinations or misdiagnosing cancer as another illness. There can be a time limit of claims such as these so it is important that you act quickly to ensure you get the best result. For more information, visit the Asons website at http://www.asons.co.uk
References
[1]23 rightdiagnosis.com
[4]http://www.nhs.uk/news/2013/04April/Pages/male-bowel-cancer-rises-30-per-cent-in-35-years.aspx

About Asons Solicitors:
Asons Solicitors is a Bolton-based law practice that specialises in personal injury and industrial disease claims. Founded by brothers Imran Akram and Kamran Akram, Asons Solicitors has developed to become a young and dynamic law firm that delivers practical solutions to clients in times of difficulty. Their continued focus on their staff has seen them awarded with the Investors in People "Gold Award"; which is reflected in the professional and personable approach they take in working with clients. They strive to grow and to develop, and their supportiveness and attention to detail ensures that their clients use them time and again.
For further information contact:
Email: info(at)asons(dot)co(dot)uk
Website: http://www.asons.co.uk