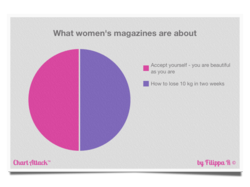 I really love how these charts can express the observations that we all make, in a funny and often quirky way.
Copenhagen (PRWEB) April 10, 2013
Available today, the new Chart Attack app for the iPad makes it possible to create and share funny charts and graphs with everyone. Charts, named Chart Attacks in the app, are easier to create than creating a Calendar event. Sharing Chart Attacks on Facebook or Twitter or by e-mail is a matter of tapping a button. Once published, users can vote a Chart Attack up or down.
"I was amazed to see that this kind of entertainment app did not exist in the App Store. Funny charts and graphs have been around on the Internet for years and sites like GraphJam have many dedicated followers." said Lasse Stolz, the developer of the Chart Attack app.
It is said that this phenomenon originated from bored office workers expressing their experiences and daily observations. Later it was picked up by websites such as JamPhat and GraphJam and it became a part of the pop culture.
"I really love how these charts can express the observations that we all make, in a funny and often quirky way. But creating good looking charts is often complicated." said Lasse Stolz and continues: "The easy approach would be to let users upload their chart images. However, I wanted to find a solution where it is possible for all users to easily create beautiful charts and graphs in minutes."
The Chart Attack app offers four types of charts: pie charts, column charts, line charts and venn diagrams. To create a pie chart, simply give the chart a name and then for each slice choose a value, a color and a name. It is that simple. Any change made to a chart is visible immediately so it is easy to predict the final result.
"When you start working with charts you find out that there are actually a million ways to present data. The hard part is to get to the core of it and make chart creation as simple as possible. I believe that I have accomplished just that with the Chart Attack app." said Lasse Stolz.
Other core features of the Chart Attack app are voting and sharing. Users can vote for the Chart Attacks they like and share them with their friends using Facebook, Twitter and e-mail. And to tie it all together, there is a clever award system.
Users receive points whenever they publish a Chart Attack, when other users vote for their Chart Attacks, when they vote and when they share Chart Attacks. When a user gets enough points and he or she will receive a medal. So for example create five Chart Attacks to receive the Chart Attack bronze medal or share ten Chart Attacks using Facebook to be awarded with the Facebook silver medal.
Lasse Stolz said: "I wanted to create an award system that made it fun for the users to compete with each other on more levels. The karma points, which are the sum of all points earned, are used to create an overall ranking of the users' performance. I look forward to have my funny charts cravings satisfied and believe that the users will have fun too!"
The Chart Attack app for the iPad is available now in Apple's App Store for $2.99 in several languages. It will be available in even more languages in the near future. The app will soon be available on the iPhone too.
Please visit http://www.chartattackapp.com for more information, screenshots and videos.
The Chart Attack app is developed by Lasse Stolz for iStolz founded in 2009 in Copenhagen, Denmark. Lasse Stolz is also the developer of the successful iMalt Scotch Whisky Companion app for the iPhone and iPad.