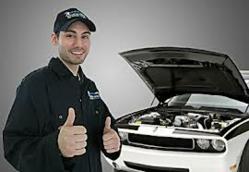 (PRWEB UK) 2 April 2013
Servicing Stop has announced that they are reducing the price of an MOT to £19 when a customer books their car with service. The offer works for both Interim and Full service booked through their mot test centres and includes collection and delivery of the vehicle to and from customer's home or workplace.
At the same time Servicing Stop also announced they are reducing the cost of an MOT alone to just £24 when taken without service. This offer also includes free pickup and delivery of your car from home or work address.
BBC Dragons' Den entrepreneur brothers Oliver and Toby Richmond founded Servicing Stop in 2008 to compare and deliver the best deals for MOT and Service. Known for their low cost car service, pickup and delivery, Serving Stop has received nothing but positive feedback from UK motorists.
In 2003 the practice of vehicle manufacturers' invalidating warranties for servicing outside their garage network was outlawed. Before the Block Exemption law, motorists were forced to pay inflated main dealer prices for car servicing. Now motorists have the choice of booking with one of Servicing Stop's authorized 1000 + garages all over the UK.
Servicing Stop ensures that it's garage network meet all block exemption stipulations, including using "OE" equivalent parts, meaning that they can service cars within the manufacturer's guarantee, without affecting the car's warranty.
Servicing Stop garages always utilize industry standard and compliant machinery for all of their work. The company makes sure your car warranty is protected, with the manufacturer's service schedule being followed.
The whole process is supported by a state of the art booking system and it takes only a couple of minutes to book a vehicle.
These are the Servicing Stop offer highlights:

£19 for MOT and car service or £24 for MOT only including collection and delivery
Car Servicing prices at up to 60% cheaper than the main dealer
Manufacturers guarantee is protected
Parts and labour guaranteed for 1 year
Fully trained mechanics and technicians using quality equipment
Quality assured garages
No extra work begins without customer's consent
You can visit Servicing Stop MOT promo page for the £19 or £24 MOT offer or follow the
Company at Facebook.com/servicing or twitter.com/ServicingStop for the latest deals.