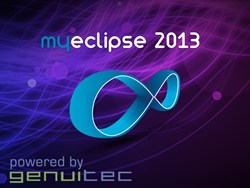 HTML5 is a central technology of the future for the enterprise.
Dallas, TX (PRWEB) April 04, 2013
Genuitec, LLC, a founding member of the Eclipse Foundation along with IBM, is proud to announce the release of MyEclipse 2013, the Enterprise Anywhere edition with new mobile capabilities. Customers are now able to build and deploy mobile apps for popular devices while turning legacy applications into mobile using the powerful, new feature-set in MyEclipse 2013.
"I'm excited about MyEclipse 2013 as we introduce HTML5 development tools for mobile and web client apps. HTML5 is a central technology of the future for the enterprise," said Wayne Parrott, vice president of new products at Genuitec. "And our tools are built on the Eclipse platform so they are available to literally 10's of millions of developers around the world."
The new mobile tools found in MyEclipse 2013 allow developers to design and implement past and present apps for Android, iPhone, iPod, and iPad devices, which make up nearly 90 percent of the market according to research conducted by ComScore in late 2012.* The MyEclipse 2013 mobile tools support gives developers the power of HTML5 while using the open-source Cordova/PhoneGap™ frameworks to support all PhoneGap APIs.
Mobile tools will also include an App Center Builder which packages apps into the cloud for testing with a Cordova runtime that boasts the ability to support more than one Cordova runtime environment. Mobile tools will also feature an HTML5 visual designer that allows developers to utilize one-click technology to design once with a single code base and configure apps for Android and iOS platforms. The mobile tools will use Google App Engine for cloud-based app building and distribution.
For Genuitec's IBM WebSphere clients, the MyEclipse development team has made it even easier to migrate projects from RAD (IBM Rational tools). The migration process is more robust, transparent and makes it easier to switch between WebSphere versions; some RAD projects will even work out of the box. MyEclipse 2013 is a fast and lightweight alternative to RAD, supporting the deployment of all project types in a variety of modes seamlessly.
MyEclipse 2013 will boast a more lightweight feel with the absence of the configuration center for individual users. For MyEclipse Secure 2013 customers, the configuration center has been replaced by Genuitec's Secure Delivery Center (SDC). MyEclipse Secure 2013 allows developers to add and remove different components from MyEclipse in a more simplified manner, as well as have the ability to access and install software from proprietary tools libraries and/or public Eclipse marketplaces. It also allows for the sharing of profiles and configurations, and license management including the ability to activate MyEclipse behind your firewall.
Other cool features in 2013:

Web Fragment support
Enhanced server and deployment capabilities
Improved project wizards
Project library enhancements
Support for target runtimes
Embedded Tomcat 7 server
TomEE server connector
WindowBuilder SWT and Swing designers
Subscriptions to MyEclipse, MyEclipse Pro and Blue Editions are available annually for about US $30, $60 and $160 respectively. MyEclipse Pro Secure edition is $99.99, while the MyEclipse Blue Secure Edition is $249.95.
MyEclipse 2013 is available at: http://www.myeclipseide.com, while MyEclipse 2013 Blue Edition is available at http://www.myeclipseide.com/blue All editions come with a free 30-day trial. Free trial users and those with current subscriptions receive all updates at no cost; enhanced service agreements are now available and vary in cost.
About Genuitec
With year-over-year growth since the company was founded in 1997, Genuitec continues to expand by offering superior products to enterprises at value-driven prices. Its products are used by 17,000 global enterprises including 80 percent of Fortune 500 companies. Genuitec's support forums are a vibrant community where users engage with staff to answer any number of technical needs. Genuitec is constantly evaluating market opportunities for new areas of growth, and has launched a new product in each of the last 4 years. As a fully-distributed work force, the company maintains a low overhead, yet attracts the most talented software developers with its flexible employment options.
Genuitec is based in Flower Mound, Texas and is founding member of the Eclipse Foundation along with IBM, Intel and HP.
Please follow Genuitec's latest news by joining "MyEclipse" on Facebook and on Twitter @MyEclipseIDE and @Genuitec