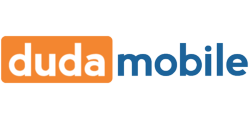 Being a mobile web solutions company serving SMB's and non-profits, DudaMobile is pleased to sponsor this initiative.
Palo Alto, CA (PRWEB) April 03, 2013
DudaMobile has announced they will be supporting their 3.5M global customer base with free mobile learning content from the NYU School of Continuing and Professional Studies via MassiveU, an integrated mobile learning solution for educators, learners, and marketers. Initial lesson apps will feature interactive slices of the popular NYU SCPS course "Mobile Marketing for the Small to Medium-sized Business," and be available on virtually any mobile phone, tablet or online screen, distributed exclusively via MassiveU.com.
"Being a mobile web solutions company serving SMB's and non-profits, DudaMobile is pleased to sponsor this initiative," says Alan Keller, Chief Revenue Officer of DudaMobile. "We see tremendous value in MassiveU's mobile delivery platform, and are very excited to partner with such a prestigious university to help educate our customers on the importance of mobile marketing."
Lesson content will focus on mobile marketing planning and content strategy. Included in the course is a video workshop on the DudaMobile mobile website builder, as well as a 60-days free trial of Duda's premium service. MassiveU's courses also provide a comprehensive classroom experience, glossary of key terms, tools for self-assessment, and a variety of other features. Founded by NYU Adjunct Professor and Mobile Learning Evangelist Angelo Biasi, MassiveU is referred to as 'the world's first mobile massive online open course (MOOC). MassiveU uses mobile apps to distribute valuable learning content to a global mobile audience on virtually any mobile device, tablet or online screen.
The launch will be supported through the efforts of DudaMobile, as well as through MassiveU, NYU, and Sprint, a co-sponsor to the mobile marketing lesson content. Those interested in downloading an interactive course or lesson can visit http://www.massiveu.com.
About DudaMobile
DudaMobile is a do-it-yourself mobile website solution that gives small- and medium-sized businesses a fast, simple and affordable way to build a mobile presence. Founded in 2009, DudaMobile offers a patented web-to-mobile platform that converts a desktop website into a mobile optimized site and is used by enterprise partners, agencies and small businesses. DudaMobile also offers managed mobile advertising solutions and custom-built mobile websites. The Company, based in Palo Alto, California, currently hosts more than three million mobile-friendly websites on its platform.