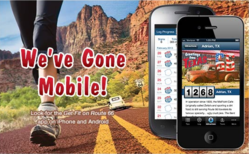 The mobile platform increases flexibility and usability of our popular Get Fit on Route 66 wellness challenge.
Midland, MI (PRWEB) April 06, 2013
Get Fit on Route 66 has been upgraded to include a mobile app option, extending potential participation to a wider audience and making daily tracking more convenient.
"The mobile platform increases flexibility and usability of our popular Get Fit on Route 66 wellness challenge," notes President and founder, Dean Witherspoon. Users can log exercise minutes, learn from health tips, earn and view spectacular images of the many attractions found along this historic route, and measure their team against others in this fun employee wellness challenge.
Healthy recipes are also available on the mobile app, which turns smartphones into handy cookbooks. Each recipe comes with a high-resolution image to help entice users to the kitchen. "We receive a lot of great feedback about our recipes," explains Witherspoon. "And now users can set their phone on the kitchen counter and cook from it."
Health Enhancement Systems online wellness challenges are designed to be easy and fun; many contain breathtaking photographs and descriptions of places around the world. "It's not uncommon for people to set up their next vacation based on virtual travels while participating in one of our challenges," observes Witherspoon. "Historic Route 66 could be a future destination or a nostalgic drive down memory lane."
The Get Fit on Route 66 mobile app is linked to its online counterpart. Participants exercise on their own or with others, then log their activity into Get Fit on Route 66. The wellness gaming platform rewards users by advancing their avatar — a classic car of their choice — along the famous US highway.
Health Enhancement Systems provides websites for all clients including a custom logo and ready-to-run setup, freeing wellness managers' time to focus on promotion. "This program received our highest participation of all the challenges we offer our employees," reports Nicole Chaudet after managing the Get Fit on Route 66 implementation at Florida Power & Light.
Brent Hartman, Health Management Consultant for Van Gilder Insurance Corporation, adds, "We love the team element, and the aesthetics of our websites are intriguing and keep participants engaged." Team participation and social interaction — staples in nearly all Health Enhancement Systems wellness challenges including Get Fit on Route 66 — are proven to increase participation and success rates.
Wellness managers can learn more or watch a 2-minute demonstration video at http://www.getfitonroute66.com.
Health Enhancement Systems creates employee wellness programs for organizations in North America and throughout the world. More than 20 effective, engaging HES wellness campaigns have been adopted by over a thousand organizations — serving hundreds of thousands of participants successfully.
For more information about Health Enhancement Systems, visit http://www.HealthEnhancementSystems.com or call 800.326.2317.