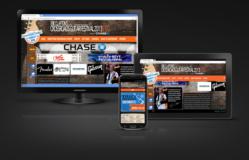 Phoenix, Ariz. (PRWEB) April 02, 2013
The Phoenix-based digital marketing agency Gate6 is proud to join an impressive list of sponsors for Eric Clapton's Crossroads Guitar Festival 2013 benefiting The Crossroads Centre in Antigua.
In support of the cause, Gate6 donated its digital expertise by building an innovative website for the show at Madison Square Garden this April 12-13. The website utilizes responsive design, an emerging technique which allows a website to adjust brilliantly across multiple device types – desktop, tablet or phone – and was built to allow fans to get the most up-to-date information on the shows and artists scheduled to perform. Gate6 is also partnering with the artists on social media promotions leading up to the festival to increase awareness of the event.
This is Clapton's first charity festival since 2010 and will act as the grand finale for his 2013 U.S. tour which began March 14 in Phoenix. Proceeds from the two-night concert event will go toward Eric Clapton's international recovery center in Antigua, designed to provide quality, affordable care for those suffering from addiction.
The festival lineup consists of more than 30 of the world's greatest guitarists such as BB King, Jonny Lang, Allman Brothers Band, John Mayer, Keith Urban, Vince Gill and Eric Clapton himself. The list of major sponsors for the event includes Fender, Guitar Center, Gibson and Chase Bank, along with Gate6.
For more information on the Crossroads Guitar Festival and to check out the new website, visit http://www.crossroadsguitarfestival.com. To learn about The Crossroads Centre or to donate to the cause, please check out crossroadsantigua.org.
Gate6, a leading digital agency, has been voted the No. 1 Web Design Firm 4-years running by the Phoenix Business Journal. With the strategy resources of a large agency and the personal attention of client-focused teams, Gate6 delivers measurable results for every client. Gate6's technical roots make its creative ideas, award-winning designs and fully integrated marketing services possible. Visit http://www.gate6.com for more information.