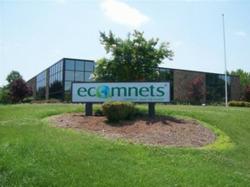 "In addition to our PCI Compliance, we were happy to maintain the services of A-Lign Security Compliance to become FFIEC Compliant", said CEO, Raj Kosuri.
Sterling, VA (PRWEB) April 02, 2013
EcomNets (http://www.EcomNets.com), the leading provider of enterprise software, cloud computing and data center solutions, today announced that it has achieved FFIEC certification allowing them to deliver solutions for security management in financial institutions. Online banking started in the 1990s as the internet began to branch its roots into our everyday lives. By the year 2000, 80% of U.S. banks were offering online services. Customer use began slowly in light of security concerns, but the greater accessibility of the internet and the convenience of online banking gave way to its explosive growth during the early 2000s. By 2009, an estimated 47% of U.S. adults were banking online. Banks have since also incorporated mobile banking, an extension of online banking using a smartphone application which relies on wireless internet. Mobile banking has seen a rise to 45% of bank customers.
Online banking allows you to check your balance, manage your account, and pay bills among the many more services available 24 hours a day. While an increasing number of customers have embraced this convenience, the problem still at hand is security. Online banking requires special security measures considering the sensitive information that is being managed and exchanged. The greatest threat comes from identity theft and fraud that target customers through phishing scams and man-in-the-middle attacks. As the use the online banking and technology expands, so has the occurrence, sophistication, and severity of these attacks.
"In addition to our PCI Compliance, we were happy to maintain the services of A-Lign Security Compliance to become FFIEC Compliant", said CEO, Raj Kosuri. "This allows us to offer more security solutions to financial institutions." Achieving FFIEC Compliance means financial institutions can be confident that EcomNets adheres to rigorous security standards, which include maintaining the proper security policies, procedures, and regulations to reduce cyber-attacks and fraud.
The Federal Financial Institutions Examination Council (FFIEC)
The FFIEC, which supervises financial institutions through standards and uniform principles, has acknowledged the growing threat cyber attacks and the need for better security and financial practices. The financial cost due to identity theft has been estimated in the billions and growing. With these astronomical losses and the vulnerability of standard user authentication, the FFIEC has issued new recommendations regarding online banking security in 2011. Among the new recommendations is emphasis on layered security, advanced risk assessment, and multi-factor user authentication. With the bulk of security breaches beginning at the user authentication level where standard authentication is highly vulnerable, we believe that a strong user authentication system can reduce unauthorized access to user accounts.
Since its founding in 2000, EcomNets has focused on delivering reliable, innovative solutions that benefit its customers' bottom line and efficiencies. EcomNets customers, among the world's leading companies, use its software technology and secure data center and cloud s solutions to maximize the value of existing investments, stay competitive in these demanding economic times, ensure compliance with government regulations, and streamline business processes.
About EcomNets
EcomNets is a privately held company based in Sterling, Virginia. EcomNets is a full service information technology company focusing on enterprise software solutions, professional services, cloud computing, and data center solutions. EcomNets develops and markets virtualization-based software and hardware solutions that deliver superior desktop computing. http://www.ecomnets.com