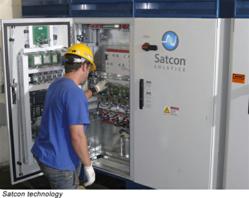 You never reach excellence if you don't like what you do. At Solarcoop we love what we do and so will you.
Hamilton, Ontario (PRWEB) April 28, 2013
A group of former Satcon's employees have decided to form a multi-disciplinary cooperative to provide the much needed preventive and corrective maintenance service for all those companies around the globe that are currently using utility-scale solar photovoltaic systems manufactured by Satcon.
The initiative came as a possible solution to the large number of concerned costumers that need to keep their systems up and running on a daily basis and have no one else to turn for this specialized service.
Some of the lines covered under this initiative will include Satcon PowerGate® Plus PV inverters ranging from 30KW up to 1MW; Solstice®; Prism Platform; PV View® Plus; Satcon™ Smart Combiner (SSC) and Equinox.
When asked about this initiative Mr. Gerardo Soler, Cooperative Director, replied: "As a result of Satcon's bankruptcy filing last year and being aware of the need of preventive and corrective maintenance to all the customers that are currently using utility-scale solar photovoltaic systems manufactured by Satcon, we have formed an interdisciplinary cooperative team of former Satcon's employees."
"We recognized this was an opportunity for us (former Satcon employees) to provide Satcon customers with a superior service by combining the skills of each of us in a cooperative effort where customer needs are first, now that they were left in limbo and, at the same time, we as individuals can continue developing our careers as technical workers in the alternative energy area while as a group we will strive to build a reputation working in the field we love," he added.
To the question, "What kind of services are you offering?" he replied:
"Solarcoop is prepared to fulfill an array of common customer needs, including but not limited to:

On-site diagnosis and repairs,
Periodical preventive maintenance,
Troubleshooting,
Re-testing and calibration,
Components replacement,
Electro-mechanical assemblies as replacement for wear-off or defective ones."
"Cooperative highly skilled and experienced engineers, technicians and support staff will provide a range of quality on-site services for Satcon's inverters around the globe. In addition to on-site maintenance, inspection and repair services, Solarcoop will also provide emergency breakdown services and technical assistance through its customer support department to help ensure increased customer satisfaction with every interaction."
About the Cooperative
Formed by the best former Satcon's specialists in each field, such as Senior Assemblers; Wiring specialists; Test Technicians; Engineering and Technical Consultants and more, with a combined experience of over 20 years designing, assembling, wiring, testing and repairing satcon's inverters.
About Satcon
Satcon Technology Corporation was a leading provider of utility-grade power conversion solutions for the renewable energy market. For over 24 years, Satcon has designed and delivered the next generation of efficient energy systems for solar photovoltaic, stationary fuel cells, and energy storage systems.
Contact
For customers, to learn more about this initiative, and to have a quote tailored to specific needs:
Gerardo Soler
Phone: (905)561-2807
gerardo.soler(at)solarcoop(dot)ws
Or
Sales Department
sales(at)solarcoop(dot)ws
For former Satcon employees, including those that worked at any of the Satcon's branches in Europe, Asia or the Americas, and want to join Solarcoop in this new venture:
enrolment(at)solarcoop(dot)ws
Disclaimer
Solarcoop is not related to Satcon Technology Corporation or its subsidiaries in any way other than been founded exclusively by former Satcon's employees