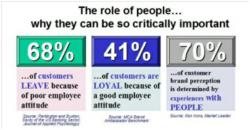 Employee Inspirations combines employee care with customer ROI value
RHODE ISLAND (PRWEB) April 24, 2013
Employee Inspirations Customer Experience is released today by Inspiration Cosmetics (IC) as a new internet-based business for global and mid-sized companies. The service helps businesses gain revenue and brand equity by teaching employees how to create looks such as approachable, knowledgeable or helpful to meet customers' in-store and face-to-face expectations. Employees around the globe conveniently schedule a private consult with a live, expert makeup artist and/or style consultant and learn how to integrate company brand concepts into their personal style leveraging IC's Discover Personal Live Webcam Consult. Currently, there is very little guidance for associates on how to represent the brand in daily cosmetic or clothing styles. To develop custom concepts, Inspiration Cosmetics Business' team of consultants, technologists and stylists meet with organizations to discuss sales strategy, metrics, implementation and brand to create a measurable experience that can build employee loyalty and sales. Employee Inspirations is supported with HR Inspirations, for non-sales staff, and a custom combo program. These three employee-enhancing solutions create tools to improve revenue, employee-engagement, associate-confidence and company commitment.
"Leveraging every touch point counts toward more share of wallet and sales," says Mari Vivace, President and CEO of Inspiration Cosmetics. "With face-to-face customer engagement being sacrificed for staffing-level adjustments a greater need exists to make each associate–customer interaction easy and valuable. Customers need to immediately see, feel and access associates' assistance. This can jump Customer Experience scores and drive incremental revenue by as much as 30%. By teaching staff to leverage their personal assets to make it easier for customers to approach them, they can extend/live the brand and improve sales. In addition, this training can benefit staff both in and out of the workplace. This dual value will aid employee loyalty and confidence."
Although any company can benefit from these services, some that may most gain are Retail, Pharmaceuticals, Real Estate, Airlines and Financial Services. The products are rich in value an easy to set-up:
Features:

Custom looks with brand concepts -- Create a series of custom looks for your male and female customer-facing positions that fit your brand.
Compatible technology – Integrate this into your intranet to make it easily accessible to your employees. You house the link; IC delivers the service and technology. They can access it via computer, smart phone or tablet.
Fast up and running – Because the technology is built and the artists and stylists are trained, the process to get up and running is fast and easy. We meet to discuss scope and needs, come in and create a series of looks for your staff, develop an internal marketing plan and appointment strategy and execute.
Expert Advice -- Trained makeup artists and stylists available, via private webcam sessions, listen to employees to create the look and messages they want and need to represent themselves at their best.
Dedicated staff—Dedicated artist/stylist staff for each client.
Available anywhere in the world - Webcam technology allows your employees access no matter where they are in the world and at anytime
On-site training too - Add an option of on-site training for key groups.
Success metrics and measurement – Create unique metrics to meet business goals or integrate into your existing Customer Experience metrics. Whatever is necessary to see how Employee Inspirations positively impact business goals.
Cost – There is a small set-up fee and then charge on a time basis that can cap or manage at a dollar level.
Support - Technology assessment and full support provided but can integrate as link on any intranet, extranet or internet
Available -- http://www.inspirationcosmetics.com/business
Giving associates the tools to bring them better job results and more confidence is essential to any sustainable business strategy. Employee Inspirations is the ground-breaking, measurable way to unite brand, drive sales and build ongoing employee loyalty for profit growth.
About inspiration Cosmetics
Inspiration Cosmetics (IC) is dedicated to celebrating the inner- and outer-beauty of every individual. With the goals to assist, beautify, and empower via self-driven inspiration and the awareness that everyone has unique personal value. The business, consumer and pro lines are high quality services and high-pigment products, with a focus on effectiveness, convenience, portability, and multi-purpose uses. Inspiration Cosmetics are developed to meet the needs of those with busy lifestyles who want to be able to look spectacular and create impact whatever the situation.
Rounding out the line is a service model that includes personalized webcam consultations and an online portal that encourages, engages, and empowers. The Company is philanthropically partnering with Ford Model Monica Watkins's Art in Motion and several leading regional and international non-profits to create the Inspiration Operation (inspirationoperation.org) focused on raising awareness and providing aide to combat human trafficking, commercial sexual exploitation, and to empower those who have experienced either. Being inspirational in the marketplace, within IC, and throughout the global community, is the focus of Inspiration Cosmetic's mission.