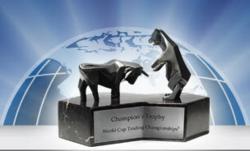 To beat top traders from around the world is unbelievably satisfying!
Chicago, IL (PRWEB) April 01, 2013
When Jack Bouroudjian hands out pewter and crystal Bull & Bear trophies April 5, he will place one in the hands of a man who is quite familiar with the hefty statues. Italian trader Andrea Unger will receive a first-place trophy for an unprecedented fourth time on the strength of his 82.8% net return, achieved in just three months during 2012. Unger's previous victories came in yearlong competitions in 2008 (672%), 2009 (115%) and 2010 (240%).
"It's a double thrill," says Unger. "To beat top traders from around the world is unbelievably satisfying, and to receive the trophy on the floor during the trading session is very exciting."
World Cup Championship events have run continuously since 1983. Previous winners include legendary trader Larry Williams, who posted a record 11,376% return in 1987. That was the year that Williams turned a $10,000 initial investment into $1,147,607.
Standings for the 2013 World Cup Championship of Futures Trading are updated daily on WorldCupChampionships.com. Traders can enter at anytime during the year, with a minimum of just 10 round-turn trades required to qualify for trophies and prizes from leading industry software, data and publishing companies. See the Official Entry Agreement for complete details.
Top World Cup Championship finishers are invited to participate in the http://www.worldcupadvisor.com Leader-Follower AutoTrade program, where talented traders display their accounts in real time and allow subscribers to automatically mirror their trading. WCA's LF TradeSync™ technology is designed to deliver same-price fills for leaders and followers alike. Trades displayed on WorldCupAdvisor.com are live trades from proprietary accounts owned by lead traders who truly have "skin in the game." View performance of top WCA accounts in the Build Your Own Portfolio e-brochure.
World Cup Championship contest accounts and WorldCupAdvisor.com AutoTrade accounts are available through a network of authorized brokers including Index Futures Group and Robbins Trading Company.
To attend the Award Ceremony on April 5, or to arrange for interviews with the trophy winners, contact Chad Robbins at crobbins(at)worldcupadvisor(dot)com or 312-454-5000.
--
Futures trading involves risk of loss and is not suitable for everyone. Past performance is not necessarily indicative of future results. Accounts trading in the World Cup Trading Championships (WCC) do not necessarily represent all the WCC accounts controlled by the competitor and may produce results different than the results achieved in other WCC accounts of the competitor.